Monsoon also means police have to cope with the rains and this affects their work

NEPAL (The Kathmandu Post/ANN) -- On the evening of June 16, Sub-Inspector Sunil Thapa of Area Police Station, Helambu had just returned after warning people residing near the Melamchi river of possible floods as there had been incessant rainfall for several hours.
"There were nine of us in the office," Thapa remembers.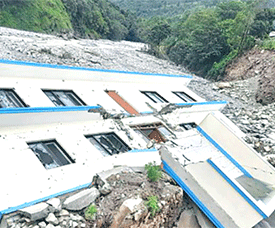 The destroyed office building of Area Police Office Helambu.   --Photo Sunil Kumar Thapa
Soon after a while the office building was suddenly hit by the wave of muddy water which was surprising for the officers.
"Our office was not very close to the river; however, as the water level had increased drastically it entered the office," said Thapa.
The area police office had already started getting calls for rescue from villagers hit by the floods. However, as all of their rescue equipment was inside the building they were helpless.
"Our officers started taking out rescue equipment, furniture, files, computers and other stuff," Thapa told the Post over the phone from Helambu.
Two days later, on June 18, fresh flash flood triggered by a heavy rainfall in Helambu Rural Municipality of Sindhupalchok district swept away the whole station.
"We are currently working from small rooms provided by villagers," said Thapa. "Local residents have helped us by providing five rooms in different homes, where we have kept all the office stuff."
According to Thapa, as the available space is not enough for the staff, they are thinking about working from tents.
"But during the monsoon, it's not possible to work from a tent due to the rain," Thapa told the Post.
Police officers stationed at the Area Police Station, Helambu are now busy clearing the roads damaged by floods and landslides while also distributing relief materials. They don't know how long they will work without a proper office.
"We are collecting data of total damage in the area, clearing roads in coordination with local residents, distributing relief materials to the victims and other regular policing work," Thapa said.
The monsoon which began on June 10 has already wreaked havoc across the country damaging property worth millions and displacing hundreds of families.
This means more work for the police who are already implementing prohibitory orders amidst the Covid-19 pandemic.
But resources are limited which means more challenge.
Many police stations across the country are still operating from tents since the April 2015 earthquakes.
This is not only the case in the rural hinterland, but even in the Capital.
Kathmandu Metropolitan Police Range has been conducting its day to day work from tents for the past six years.

(Latest Update June 30, 2021)