Senators want thorough probe into Sulu military plane crash
MANILA (Philippine Daily Inquirer/ANN) -- Several senators are pushing for a thorough probe into the military transport plane crash in Sulu to prevent a repeat of the incident.
In a statement Monday, Senator Grace Poe called on authorities to extend available assistance to the families of the soldiers affected in the crash
"We mark this terrible loss of life with a reminder of the sacrifices our brave Filipino soldiers make each day in the name of duty to serve the country," Poe said.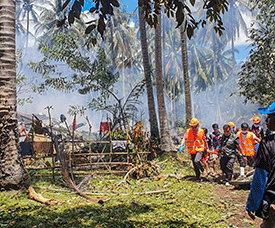 Rescuers are seen at the crash site of a C-130 military plane of the Philippine Air Force in Sulu Province, the Philippines, July 4, 2021. --Photo Joint Task Force Sulu/Handout via Xinhua
"At the right time, we expect a thorough investigation of the incident to see what can be done to avoid a repeat of the tragic crash and to put in place measures to make our military planes safe," she added.
47  military personnel and three are civilians on the ground were killed in the crash in Patikul, Sulu on Sunday. Meanwhile, 49 military personnel and four other civilians on the ground were injured. All of the 96 passengers have been accounted for, according to Armed Forces of the Philippines spokesperson Maj. Gen. Edgard Arevalo.
"We trust that the circumstances that led to the crash will be thoroughly probed, as ordered by [Defense Secretary Delfin] Lorenzana, before our air assets are allowed to fly again," Senator Joel Villanueva said in a statement Sunday.
"No Filipino soldier, who lays his life for our country, should die from our own military hardware," he added. Villanueva also conveyed his prayers to the families of those who died in the crash.
For his part, Senator Richard Gordon said the plane crash in Sulu "is an urgent call affecting national security."
"C-130s are the workhorses of any army. C130's efficiency and load capacity, whether troops & cargo during conflicts or disasters, is tailor made for our 7,641 islands," the senator said.
Gordon also underscored the need to acquire more C-130 planes as he pointed to how many the Philippines has in comparison to other countries.
"Singapore, an island state as big as SBMA (Subic Bay Metropolitan Authority), has 10 C130s. Thailand has 12. We have only 3 C130s and just lost 1!" he added.
Further, he said there should be "strong maintenance operations and continuous training by our troops to obviate loss of life, manpower [and] material."
Senator Aquilino "Koko" Pimentel III joined his colleagues in extending his prayers for those who died and were injured due to the crash. Lorenzana earlier said he has ordered a "full investigation to get to the bottom of the C-130 incident" once recovery operations have been completed.

(Latest Update July 6, 2021)