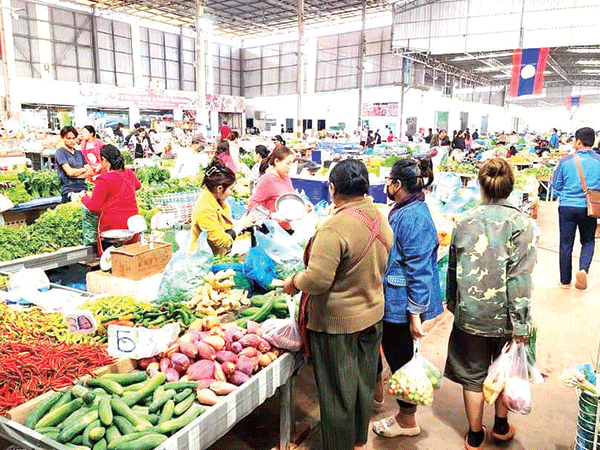 The cost of food and non-alcoholic beverages increases by 45.89 percent year-on-year. --Photo Lao Economic Daily
Inflation jumps to new high of 39.27 percent in December

Year-on-year inflation in Laos surged to 39.27 percent last month, the highest rate ever recorded since 2000, according to the latest report from the Lao Statistics Bureau.
The spiralling consumer price index was mainly driven by the ever-increasing cost of food and non-alcoholic beverages, communications and transport, and medical care and medicines.
The depreciation of the kip against the US dollar, Thai baht and Chinese yuan is another key factor driving inflation, resulting in rising prices of products imported from neighbouring countries.
The surge in the price of fuel combined with the weak kip has bumped up production costs, as machinery, oil, animal feed and fertiliser must all be imported at increasingly higher prices.
The consumer price index has skyrocketed beyond expectations since early last year, ramping up pressure on people struggling to improve their quality of life and rise above poverty.
Inflation in May was recorded at 12.81 percent before climbing to 23.61 percent in June, 25.62 percent in July, 30.01 percent in August, 34.05 percent in September, 36.75 percent in October, and 38.46 percent in November.
In addition, the hike in interest rates in the US is exacerbating the situation by creating a stronger dollar.
The Thai baht has also strengthened in value and last week was trading at 34.35 to the US dollar after hovering around 38 to the US dollar in September and October.
The Bank of Thailand was quoted by the Bangkok Post as saying that it expects to keep raising interest rates through the first half of 2023. A strong baht means that goods imported from Thailand will cost even more, with Thailand being a key trading partner of Laos.
According to a government report, the kip fell in value by 19.44 percent against the US dollar and by 18.02 percent against the Thai baht over the last nine months of 2022.
The government has pledged to ensure an economic growth rate of at least 4.5 percent in 2023 despite the global economic downturn, while capping inflation at not more than 9 percent.
The government has also vowed to tighten currency exchange rates and boost production levels in order to reduce the volume of imported goods, as a means to revitalise the economy in the long run.
In December, the cost of food and non-alcoholic beverages increased by 45.89 percent year-on-year. The price rise in this category was driven by the higher price of rice, beef, pork, poultry, fish, seasonings, cheese and milk, cooking oil and other kinds of food.
Meanwhile, costs in the communications and transport category rose by 50.43 percent year-on-year, medical care and medicines by 42 percent, and prices in the hotel and restaurant category by 32.18 percent.
By Somsack Pongkhao
(Latest Update January 9, 2023)