PM calls for action to create digital economy, society

Prime Minister Sonexay Siphandone has called for intensive action to develop three digital pillars – a digital economy, government and community - to give a big boost to the country's socio-economic development.
Addressing the 'Ministerial Level Conference on Blockchain 4.0 Development for Digital Economy Development in Laos' in Vientiane on Friday, the premier said "We must be resolutely determined to promote and broaden the use of digital technologies effectively."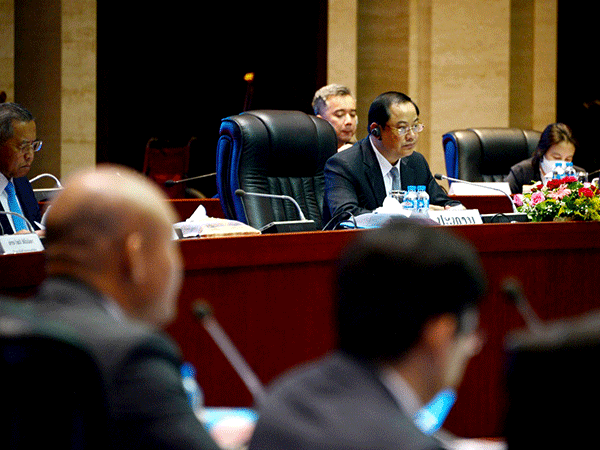 Mr Frank Sui (left) addresses the conference chaired by PM Sonexay Siphandone (centre).
The technologies in question include blockchain, artificial intelligence (AI), high speed Internet, Internet of Things (IoT), big data, cloud computing, E-wallet, E-transactions, E-payments, and virtual and augmented reality.
These technologies, Dr Sonexay said, would bring about new opportunities and services to drive rapid changes and spur fast progress in socio-economic development and governance.
The use of digital technologies is a global trend, he said, adding that countries around the world are developing and using them to create smart cities, smart government, smart economies, smart communities, and smart living.
To pursue this common goal, the Lao government is implementing the National Digital Economic Development Vision for 2021-2040, the National Digital Economic Development Strategy for 2021-2030, and the National Digital Economic Development Plan for 2021-2025.
PM Sonexay stressed the need to develop human resources and infrastructure, along with enacting the necessary legislation to support these plans and digital transformation in Laos.
Organised by the Ministry of Technology and Communications and supported by MetaBank Singapore, the one-day conference pushed for digital transformation and digital economic development in Laos through the use of blockchain – a trustless decentralised system.
Blockchain is a shared, immutable ledger that facilitates the process of recording transactions and tracking assets in a business network. An asset can be tangible (a house, car, cash, land) or intangible (intellectual property, patents, copyrights, branding).
Virtually anything of value can be tracked and traded on a blockchain network, reducing risk and cutting costs for all involved, according to IBM.
Minister of Technology and Communications Prof. Dr Boviengkham Vongdara told the meeting his ministry and MetaBank Singapore had signed a contract to develop Lao National Blockchain Infrastructure to support digitalisation.

| | |
| --- | --- |
| | |
A blockchain technology research and development centre and a digital transformation fund have been established to support human resources development in this field, according to the minister.
Professor Bill Roscoe of Oxford University told the conference that the trustless decentralised system is the key to digital civilisation and the democratisation of service provision.
Blockchain assures incorruptible agreed records of data, rules, and transactions whereby rules are transparently applied, the professor said.
Underlining the need to create a digital ecosystem, MetaBank Singapore's Founder and Chairman Frank Sui said it is expected that digital economic development will be a main driver in the development of digital government and digital communities.
Laos' digital economy, throughout its 2023-2025 piloting programme, is forecast to generate revenue of more than US$7 billion. This comprises more than US$1 billion this year and rising to more than US$2 billion next year before jumping to more than US$4 billion in 2025, according to the chairman.

Worldwide, more than 150 countries out of 195 have developed national digital economy strategies. The combined value of the digital economy globally exceeds US$20 trillion.


By Times Reporters
(Latest Update May 29, 2023)