Promotional event brews promise for Lao tea producers
Lao Tea Day – the first event of its kind ever to be held in Laos - is expected to shape the future of the Lao tea farming and processing industry.
Taking place this weekend on June 4-5 at Lao-ITECC in Vientiane, the tea festival is a timely reminder of International Tea Day and all of the history and culture associated with tea drinking and production.
Organised by the Mekong Tea Project of the Department of Agriculture, Ministry of Agriculture and Forestry, in collaboration with development partners, the event will showcase the history of tea growing.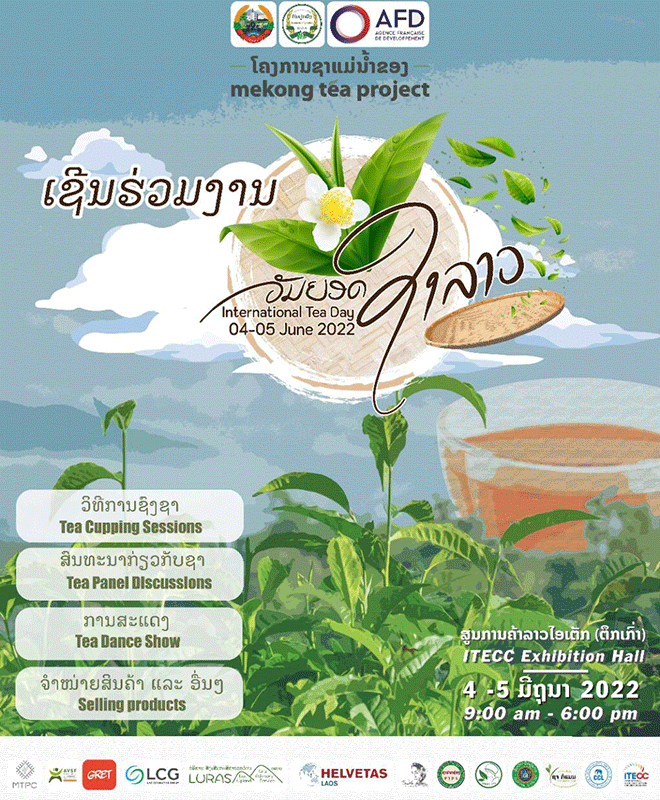 The first Lao Tea Day will be held on June 4-5 at the Lao-ITECC.
Running from 9am to 6pm each day, the event will feature a tea cupping session by Lao and foreign specialists. The process shows how industry professionals measure tea quality and determine flavour characteristics. It also helps them to ensure products are of a satisfactory standard for consumers.
Tea growers, businesses and projects promoting tea farming are expected to set up as many as 17 booths to showcase tea products at the event.
A panel discussion will enable stakeholders to share ideas on ways to develop tea farming and processing in Laos.
"The event will provide a venue where tea producers, businesses and specialists can share and update information on marketing and form a network," said Khambone Phasouk, technical advisor to the Mekong Tea Project of the Department of Agriculture.
Mr Khambone, who is a member of the team in charge of organising Lao Tea Day, is optimistic about the future of tea farming and processing in Laos, saying there is plenty of arable soil on which to grow good quality tea.
Tea is currently grown on more than 7,700 hectares of land, mostly in the north and south of Laos, including tea that grows naturally in the wild, according to Mr Khambone, citing 2021 data from the ministry.
Initial data suggests that more than 10 thousand tonnes of tea is harvested each year, with most of the products exported to China, Thailand and Vietnam as well as European markets.
Unfortunately, Lao farmers tend to grow tea individually, in scattered plots, which is inefficient for the industry as a whole.
Given this situation, Mr Khambone said it was advisable for tea growers to group together to share lessons learnt and best practices, as well as sharing market information and forming networks.
He also stressed the need to provide growers with the necessary know-how to improve product quality in order to capture market potential and gain wider access to regional and global markets.
"There is considerable potential in the European market. But growers need to have organic and fair-trade certification," he said, adding that on the other hand the Chinese market offers a higher price.
Small-scale growers, which represent 80-90 percent of all growers in Laos, need particular assistance, especially concerning skills around processing, packaging and marketing.
"The government needs to seek (more) funding to provide assistance in this regard," Mr Khambone said, adding that a strategy to promote commercial tea production is also needed.
In light of the potential, many development partners have extended support including financing to promote tea farming and quality improvement in Laos in recent years.
In 2019, the French government provided grant assistance of over 14 billion kip (EUR 1.5 million) to fund a tea value-chain project in Laos over a period of three years. It aimed to improve the quality of life and earnings of small-scale tea producers and develop a regulatory structure for the tea supply chain in Laos.
Mr Khambone said he hoped this year's International Tea Day activities in Laos would not be as low key as in past years, but would be a good start and significant drive in promoting tea farming in Laos.
"We hope to organise (Lao Tea Day) every year if this one succeeds as expected," he said with a grin.
The first Lao Tea Day is made possible thanks to the Mekong Tea Project, 3T/CCL, GI regional, Luras and Biotrade/Helvetas projects, with tea-related business operators helping to organise the event.
International Tea Day is observed every year on May 21 to raise awareness of the history and the cultural and economic significance of tea around the world.
Tea is the world's most consumed drink, after water, according to the United Nations.
It is believed that tea originated in northeast India, north Myanmar and southwest China, but the exact place where the plant first grew is not known. There is evidence that tea was consumed in China 5,000 years ago, the UN said.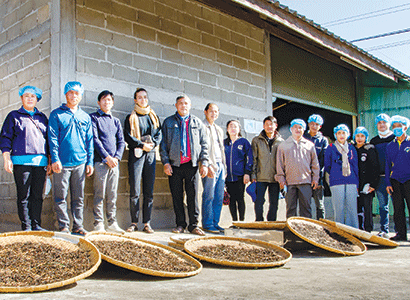 By Times Reporters
(Latest Update June 1, 2022)