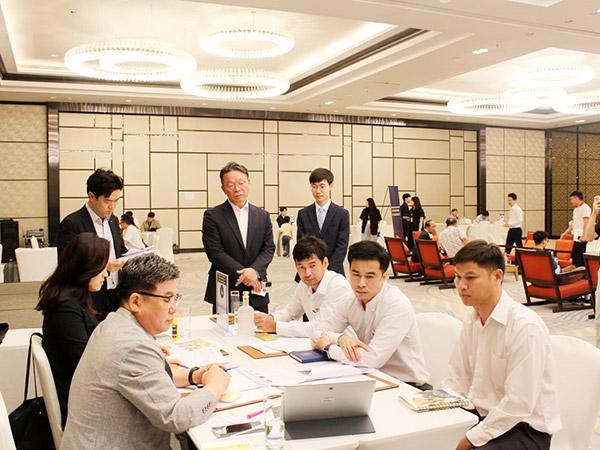 A 1-1 meeting between Korea's SINNOTECH (left) and EDL-Gen in Laos.
Korea, Laos hand in hand to digitalise Lao economy

Under the initiative of the Regional Digital Global Bridge with Asian countries, a trade mission from Korea to Laos was organized under the theme 'South-East Asia ICT Trade Mission'.
The event took place in Vientiane in June, hosted by Korea's Ministry of Science and ICT and NIPA and organised by the Korea Trade Investment Promotion Agency (KOTRA) Vientiane.
The event attracted more than 50 entities including private companies and government institutions with more than 100 participants, and 75 one-to-one meetings were arranged with 10 Korean companies.
At the event, three Memorandums of Understanding between three Korean companies and three Lao companies were signed.
The Trade Delegation is composed of ICT leading companies from Korea such as a leader in AI vision inspection system which is useful for defect detection and can be applied in factories to increase productivity, THE COMPANY; a specialist in the e-book platform that produces, shares and distributes e-books which already are exported to Japan, India and Vietnam, ARASOFT; specialised in industry IoT Platform which can provide Smart Factory solutions which are being exported to China as well, KOPENS; IoT based low power water supply monitoring and control device, SINNOTECH; and a specialist in portable body composition analyzer and health management platform which is being exported to the USA, UK, Germany and Russia, ONESOFTDIGM.

| | |
| --- | --- |
| | |
| After discussing various issues during the South-East Asia ICT Trade Mission, a representative of Korea's COMPANY (left) and Laos' LTS Venture sign an MOU on further cooperation. | Representatives of KOPENS from Korea (left) and Xanglao Engineering and Construction in Laos shake hands and display a signed contract at the event in Vientiane on June 1. |
The event also participated by the AI-based objects detection drone and software technology that can detect people, cars, abnormal behavior, fire and others, LIHAI; the company that provides intelligent video analysis solution, WOOKYOUNG INFORMATION TECHNOLOGY; as well as WINITECH which is an expert in integrated emergency management systems (IEMS) and provides consulting and system development for smart city projects. The company exports their solutions to Indonesia, Malaysia, Bangladesh, Peru and Vietnam; and OYOUNG BEAUTY which provides AI-based healthcare guide platform consultation with hospitals and clinics on skin care products and being exported to Singapore and Vietnam and; FD TECH which manufactures AI robots that perform crack inspection safely and accurately which is suitable for application in the construction sector who is expanding the market to Japan and Vietnam.
Key Lao leading project developers, factories and companies attending the event included the Doungchaleun Development Construction Group, Vientiane Logistics Park, Coca Cola, EDL-Gen, Toyo Lao, Lao Pipe, ALO Technology, MMG Business Service as well as international consulting companies such as the Lao Consulting Group, GDMS, LTECH and other IT-based developers and importers, who had shown strong interest in using Korean information technology for their business development after their one-to-one meetings.
In addition several Lao ministries participated in the meetings seeking to understand new technologies to apply to future projects, including the Ministry of Public Works and Transport, Ministry of Natural Resources and Environment, Ministry of Education and Sports, and other government bodies.
During the event, the Ambassador of Korea to Laos, Mr Jung Yung Soo visited each booth, offered his congratulations and encouraged bilateral cooperation among the private sectors of the two countries.
He said "Korea is becoming a global technology powerhouse, especially in the fields of AI, smart cities, and cyber security. The Korean government continues to fund the development of new technologies to create an innovative ecosystem with the aim of successful digital transformation. I hope that today's technological knowledge sharing meetings will contribute to the development of the Iaos ICT market, he added.
"I am very happy to attend this event because I want to learn how the Korean government is supporting the private sector in terms of the framework of technology policy and best practices for innovation," said a Lao government official who participated in the event
"I encourage our government to refer to and apply similar policies and strategies in Laos."
The CEO of the leading private company said after participating in the event "After receiving the invitation from KOTRA Vientiane to be a part of the 2023 Regional Digital Global Bridge South-East Asia ICT Trade Mission, I was very keen to participate because I know that the Republic of Korea has highly developed technologies which may be suitable for the further development of my company."
"In this business matching event, I met with representatives of two Korean companies and was interested to learn about their technologies. As we know, Laos does not have enough skilled workers and I hope that I can find technological solutions to this issue," he added.
"We have exchanged contract information and we will discuss in more detail the possibility of providing technology to suit the situation and environment in my company," he added.
By Advertorial Desk
(Latest Update June 7, 2023)