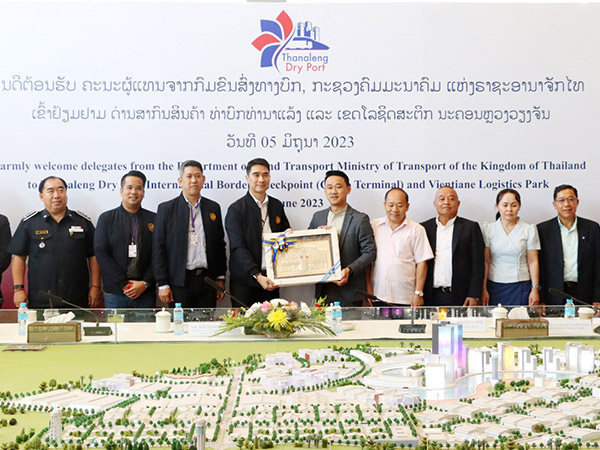 Mr Viengkhone Sitthixay (right) presents a gift to the visiting Thai delegation.
Thanaleng Dry Port, Thai authorities seek common ground to speed up cross-border freight transport

The developer of the Thanaleng Dry Port and Thai authorities on Monday held talks at the port in Vientiane to seek common ground in an attempt to speed up the transport of cross-border freight.
Function as a border checkpoint for freight where the Laos-China and Laos-Thailand Railways converge, the dry port has become an important gateway through which Thailand is exporting and importing goods to and from Laos, China and beyond through cost-effective service rail services.
Through the use of rail transport, Thai businesses have enjoyed faster and more direct shipment of goods, especially of fresh produce. The shorter delivery time means that fresh vegetables and fruit such as the popular durian reach Chinese customers much more quickly. This has been made possible thanks to the opening of the dry port and the Laos-China Railway in December 2021.
"Shipping cargo from Thailand to China by rail now takes just four hours," the dry port's Managing Director, Mr Sakhone Philangam told the guests.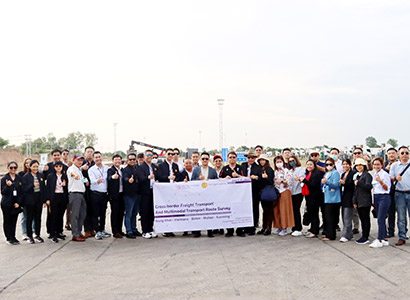 The visiting Thai authorities included representatives of the Department of Land Transport, Thai National Shippers' Council, Office of Industrial Economics, Digital Economy Promotion Agency, Thailand Development Research Institute, universities, and private logistics and transport service providers.
The group was inspecting the Nong Khai-Vientiane-Boten-Mohan-Kunming rail route and considering ways in which freight transport could be speeded up.
Mr Sakhone said some procedures needed to be addressed in order to speed up the movement of freight through the integrated dry port.
Thai entrepreneurs, he recommended, need to make early/prior inspection and declaration, including ensuring correct declaration of numbers of containers and seals.
"Currently, 60 percent of products from Thailand [arriving at the dry port] have no seal," he said.
Without a seal, a full inspection must be carried out, which slows the passage of freight.
Both sides, he added, should reach a consensus that clearance procedures should be done in Thailand in advance, so that the information can be shared to ease the process and speed up the movement of freight.
In response to a question raised by a Thai guest, Mr Sakhone said the first Laos-Thailand Mekong Friendship Bridge, which is located near the dry port, has sufficient capacity to handle trucks entering Laos.
He explained that the current traffic build-up is due to the fact that trucks start to enter Laos quite late in the day at about 11am, instead of arriving sooner.
The director added that the bridge "is not made use at full capacity".
In addition, he added, it is unfortunate that the border crossing closes at 10pm, saying that goods transport could be done later at night.
Making full use of the existing bridge is a better idea than building a second one, he said.
The multimodal transport node dry port and its associated Vientiane Logistics Park are expected to reduce cross-border transport costs, especially at the friendship bridge border crossing, by 40 percent from current prices by 2025.
President of Thailand's Kaocharoen Train Transport Co., Ltd., Panya Paputsaro, whose company has made several shipments of cargo, mainly durian, from Thailand to China, said recently that he has enjoyed remarkable cost cuts.
"Shipment by rail cuts transport costs by 30 percent," he told the Vientiane Times during his shipping journey at the Thanaleng Dry Port.
Its developer said the dry port has become a logistics hub for the region and an important trade gateway between Southeast Asian countries and China.
Last year, the dry port handled almost 50,000 containers, which went to countries such as Vietnam, Cambodia, Myanmar, Malaysia, Singapore, Thailand, China and Russia.
Through the China-Europe rail network, cargo can reach European markets at a more competitive cost given the transport time of just two weeks as opposed to 45 days by sea.
Vice President of VLP Co., Ltd., Viengkhone Sitthixay, told the guests that the dry port and logistics park are part of the packaged Lao Logistics Link (LLL) project, which includes the Vung Ang seaport in Vietnam's Ha Tinh province, a planned railway linking the seaport to the dry port in Vientiane, and a logistics park in Khammuan province through which the planned railway will run. Through the Vung Ang seaport, cargo can reach countries in the Pacific region.
To maximise the benefits of enhanced connectivity, the developer of the US$727-million dry port and Vientiane Logistics Park is setting up a logistics complex comprising seven zones, including an export processing zone, to encourage investors to do business and enjoy incentives such as generous tax breaks.
| | |
| --- | --- |
| | |
By Advertorial Desk
(Latest Update June 7, 2023)