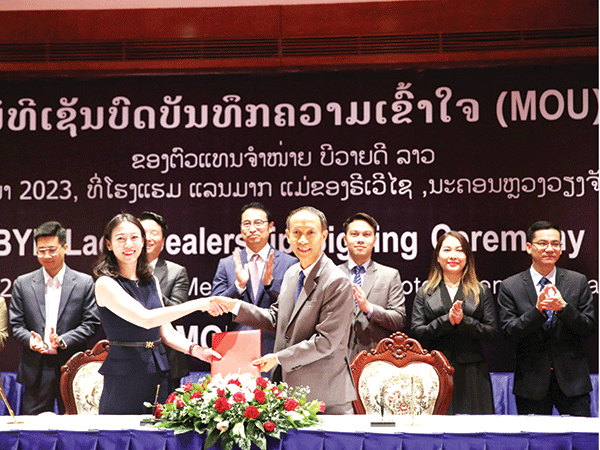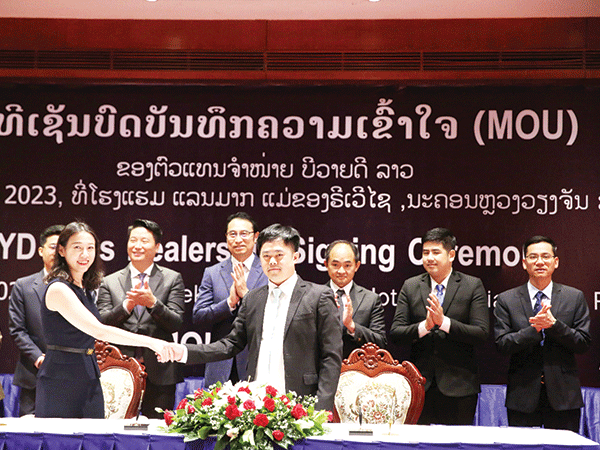 A ceremony was organised for signing the Memorandum of Understanding (MOU) regarding the BYD Laos Dealership between MOK Co Ltd, the Exclusive Distributor for BYD, Lao Thani Company and Auto Asia Company.
MOU for the BYD Laos dealership
MOK Co Ltd, Lao Thani Company and Auto Asia Company signed the MOU during the ceremony held at the meeting room of the Landmark Mekong Riverside Hotel on June 6, 2023.
Mrs Mango Wan, the CEO of MOK Co Ltd, Mr Ohsioungkham Phimphachanh, the General Manager of Lao Thani Company, and Mr Kongphet Keomanivong, the Director of Auto Asia Company, signed the agreement.
The signing of the documents was witnessed by Mr Liu Xueliang, the General Manager of BYD's Asia-Pacific Auto Sales Division, and the heads of all departments, to make the event more meaningful and to strengthen the partnership for business expansion in Laos, especially for new electric vehicles.
Following the signing of the MOU, Lao Thani and Auto Asia became BYD's distributors in Laos, and both parties will now provide sales and services to consumers.
Currently, the electric vehicle market is increasing day by day. These vehicles use clean energy and have lower consumption than gasoline-powered cars, and the use of new energy is mandated by government policies.
BYD is recognised as one of the companies with the most potential to provide core batteries for electric vehicles. BYD's batteries have evolved from "lithium-ion batteries" to "blade batteries", which pass hundreds of standard tests and are safer, more durable, longer-lasting and, most importantly, more environmentally friendly.
In addition, BYD is a pioneer in the research and development of electric vehicles. BYD ATTO 3 will be equipped with electric vehicle structure, and there is a brand new five-seat sedan that is expected to be launched soon. With this potential, the firm brings credibility to users and makes BYD a bestseller, with sales reaching 1.86 million units in Laos and around the world in 2023.
Over the past three years, BYD has sold thousands of vehicles in Laos, where the electric vehicle market is also growing.
As BYD Laos, we are willing to provide consumers with electric vehicles and perfect after-sales services. In addition to the growth of electric vehicles, there is the growth of 03 public charging stations around Vientiane and other provinces. (Thakhaek, Pakxan, Savannakhet, Pakxe, Vangvieng and other provinces are installing charging stations).
Consumers can be sure that there are people in other federal states who are interested in owning an electric car and that there are sufficient charging stations.
By Advertorial Desk
(Latest Update June 8, 2023)