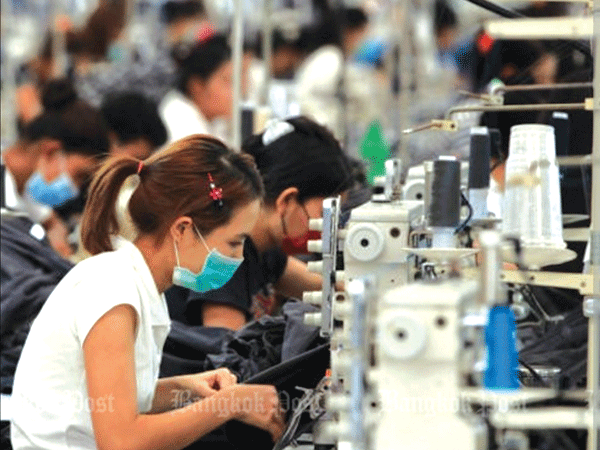 Women sew garments for export at a factory in Vientiane.(File photo)
NA member calls for increase in minimum wage

A member of the National Assembly has called for an increase in the minimum wage, saying that although the government has approved increases in the past, these have not kept pace with spiralling price rises.
The suggestion was made on Tuesday during the 5th Ordinary Session of the National Assembly's 9th Legislature, recommending that the minimum monthly wage be increased from the present 1,300,000 kip to 2 million kip.
Businesses say they cannot afford to pay this much, but workers say the paltry sum they are currently paid does not cover their living costs.
The government is considering a pay increase but has yet to make a decision regarding the exact amount and the timeframe for its rollout.
Although Laos is suffering from record high inflation, which has led to a significant increase in the cost of living, most employers only offer the minimum wage, prompting more workers to seek better employment opportunities in neighbouring nations, particularly Thailand.
An official said Laos would lose more workers to Thailand if the minimum wage remains unacceptably low. Statistics provided by the Ministry of Labor and Social Welfare last year show that more Lao nationals are now working in other countries.
Last year, the Ministry of Labour and Social Welfare was instructed to discuss the matter with the Lao National Chamber of Commerce and Industry, which represents the business sector, to seek solutions to the problem.
National Assembly members acknowledged that the government had introduced measures to slow the depreciation of the kip, including raising interest rates and rationing foreign exchange reserves for the import of essential goods.
But the impact of these measures is temporary if underlying structural problems have not been properly addressed, they say.
Failing to stabilise exchange rates could see Laos face further currency depreciation, leading to further inflation.
The government first increased the minimum wage in 1991. In 2012 the minimum wage was raised from 348,000 kip to 626,000 kip a month, and in 2015 a further hike to 900,000 kip a month was made.

By Phetphoxay Sengpaseuth
(Latest Update June 29, 2023)