Ministry backs scheme to improve review of environmental impact assessments

Technical staff at both the central and local levels will be better able to review environmental impact assessment reports thanks to a capacity building project.
The project will be funded by the United States Agency for International Development (USAID) and the Australian Department of Foreign Affairs and Trade (DFAT) at a cost of US$41,483.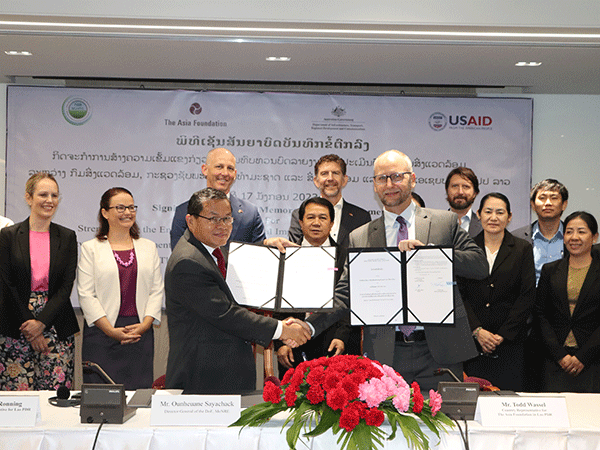 Mr Ounheuane Sayachack (left) and Mr Todd Wassel display signed project agreements in Vientiane on Tuesday.
A Memorandum of Agreement between the Asia Foundation and Laos' Department of Environment was signed in Vientiane on Tuesday with the aim of improving capacity building in the environmental and social assessment review process for infrastructure development projects.
The agreement signing was witnessed by the Director General of the Environment Department, Ministry of Natural Resources and Environment, Mr Ounheuane Sayachack; Country Representative of USAID in Laos, Mr Michael Ronning; Deputy Head of Mission at the Australian Embassy in Laos, Mr Dan Heldon; the Asia Foundation Country Representative in Laos, Mr Todd Wassel; and officials from related ministries.
Under the initiative, government officials will be trained to review project assessment reports towards fostering sustainable and climate change-resilient infrastructure development.
This work is important for protection management and environmental problem-solving related to the development of various investment projects.
The process of reviewing Environmental Impact Assessment reports is a process of studying, surveying, researching information, and predicting impacts on the social and natural environment, both positive and negative, that will occur from investment projects and various activities both in the short and long term.
This includes determining the appropriate methods and measures to prevent, avoid and reduce impacts on the environment.
Economic and social development is currently growing, especially the development of large-scale infrastructure and investment projects in various sectors such as hydroelectric dams and mining, which shows that environmental problem solving must be guaranteed.
The enforcement of laws, decrees and regulations in Environmental Impact Assessment is not yet effective.
Accordingly, the Ministry of Natural Resources and Environment has attempted to strengthen its staff and source technical assistance to upgrade the capacity of employees to improve their ability to implement laws, decrees and regulations relating to Environmental Impact Assessments.
The agreement on strengthening the environmental and social impact assessment report review process between two sides is seen as pivotal to strengthening the leadership of the ministry and high-ranking officials to support the government's socio-economic development plan.
In particular, it will aim to ensure the successful rollout of investment projects is guaranteed and that effective solutions are put in place concerning problems affecting the environment.
By Times Reporters
(Latest Update January 18, 2023)