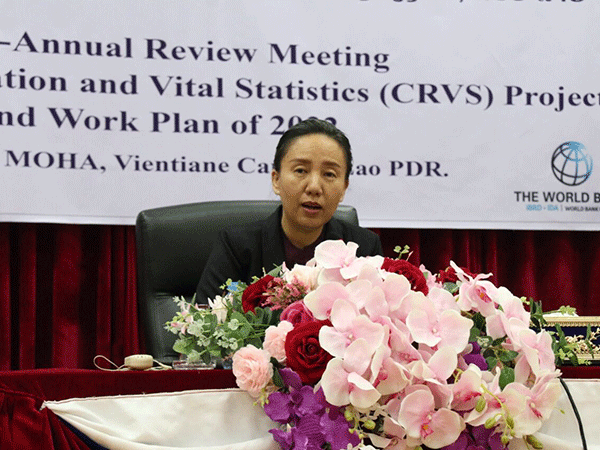 Deputy Minister of Home Affairs Mrs Livong Laoly chairs a meeting on civil registration and vital statistics.


Civil registration process undergoes e-system testing

The Civil Registration and Vital Statistics (CRVS) project plans to test the integration of the eCRVS system and the payment of services through the bank.
The aim of the project is to improve the registration of vital events, particularly births and deaths, through the establishment of an efficient electronic civil management information system.
Project staff will continue to work with the WCC Group to improve the eCRVS system and strengthen the provision and utilisation of registration services.
Officials involved in the project met last week at the semi-annual review meeting and discussed the work plan for 2022.
The meeting was chaired by Deputy Minister of Home Affairs, Mrs Livong Laoly.
Director General of the ministry's Citizen Management Department, Mrs Kommaly Vilaphanh, reviewed the achievements of the first six months of this year and project plans for the last six months of 2022.
Project staff will hold a meeting to discuss the Family Registration Law 2018, Civil Registration and Vital Statistics Strategy 2016-25, other laws and regulations, and mass registration within the last six months of 2022.
Under the action plan for the second six months of this year, officials will continue to organise basic IT training for staff who are responsible for the project in Borikhamxay, Khammuan and Savannakhet provinces.
Project staff will continue to hold talks with the Ministry of Health's Health Care and Rehabilitation Department, and collect accurate information around the registration of births and deaths at the Mother and Child Hospital.
In 2020, 74,275 births were recorded, along with 22,324 marriages and 5,026 divorces. There were also 11,805 name changes, 71 changes of nationality, 20,363 deaths, and the relocation of 52,160 people.
Project officials will carry out field pre-testing of materials in target villages in Vientiane and in Xieng Khuang province.
They will also request approval of the content and key messages of the materials from the Ministry of Home Affairs, and will then get them printed.
By Times Reporters
(Latest Update July 17, 2022)