Govt orders action to regulate foreign currencies, address economic challenges

The Lao Prime Minister has ordered action to regulate foreign currencies to ensure that more foreign exchange earned from exports and foreign investments enter the country, while simultaneously promoting the use of the Lao kip.
The seven-page order, signed by Prime Minister Sonexay Siphandone on July 14, is designed to increase the supply of foreign currencies, lead to dedollarising, and create demand for the Lao kip.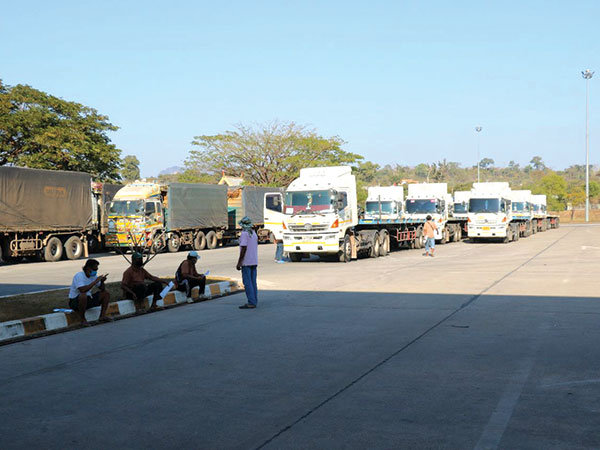 Trucks carrying goods are ready to export and bring foreign currencies to Laos.
The move comes at a time when Laos has been hit by skyrocketing inflation and high public debt, driven mainly by depreciation of the Lao kip. A little more than 30 percent of export receipts are currently entering Laos through the banking system.
Under the new order, the Bank of the Lao PDR has been told to improve the electronic payment system for financial transactions and to regulate the use of foreign currencies at special economic zones.
The Ministry of Finance was instructed that tax obligations and revenues can be collected in foreign currencies from exporters or business units that generate income in foreign currencies.
The Ministry of Industry and Commerce was ordered to develop an electronic system and to link or share data with the Bank of Lao PDR and concerned sectors to regulate import and export activities.
Importers and exporters are required to hold specific bank accounts in Laos to process their financial transactions. They need to register with the Ministry of Industry and Commerce and transfer money earned from exports via the banking system and into specific accounts.
Exporters who want to keep their foreign currency abroad, in order to repay loans taken in other countries, need to seek permission from the Bank of Lao PDR.
The Ministry of Planning and Investment was asked to work in cooperation with the Bank of Lao PDR and other concerned sectors to develop a data system and to share data to regulate foreign direct investment.
In addition, concerned sectors were told to regulate and inspect the inflow of foreign currencies earned from foreign investments and to regularly report the scenario to the Bank of Lao PDR.
One of the main challenges for Laos is that actual foreign investment inflows through the banking system are much lower than the agreed value of registered capital investments, and this leads to an overall imbalance of payment in the country.
The Ministry of Industry and Commerce was also ordered to inspect and define the price structure and to ensure that the trading of vehicles and precious metals and payment of consultancy service fees is done in Lao kip through the electronic system.
The purchase and sale of land plots and housing, payment of transport service fees, construction contract fees, education service fees, sports fees, medicine and treatment fees, media service fees, and tour guide service fees, and payments for hotels, restaurants and other goods at local markets (many of these products and services are priced in FX) need to be done in local currency.
The Ministry of Industry and Commerce was also asked to ensure that businesses display the price of their goods and services in kip, including those operating online.
The payment of salary and wages also must be done in Lao kip, except in the case of foreign workers and experts, whose wages can be paid in foreign currencies.

By Somsack Pongkhao
(Latest Update July 19, 2023)