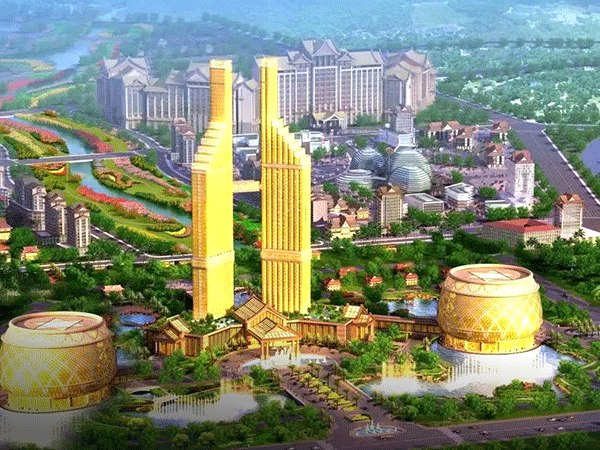 Sithandone Special Economic Zone will boost economic growth in Laos.–Photo Four Thousand Islands
Sithandone SEZ launches new mega projects

The Sithandone Special Economic Zone (SEZ) in southern Laos is starting construction of two major development projects after the completion of a land survey carried out by Zone officials and the government.
One of the developments is a grandiose hotel close to the Mekong River and the Khonphapheng Falls, built in the shape of two khaen and believed to be the tallest building in Laos.
The other is a warehouse, which is aimed at improving logistics in the area and fostering regional trade, according to the Zone's Facebook page "Four Thousand Islands".
The construction cost of the two projects has not been revealed, but they are part of the first phase of development of the Sithandone SEZ, which began in 2018 and is scheduled for completion in 2025, with an estimated value of about US$600 million.
The 238.98 metre hotel is designed in the shape of two khaen (Laos' iconic traditional pipe instrument) and will be a 'valuable musical heritage' for the Lao people.
An official from the Zone, Mr Xu Liang, said the survey for the hotel was expected to be complete in September and the ground-breaking ceremony for the start of construction will take place after the rainy season.
The hotel, which will contain restaurants and host tourism-related activities, is intended to welcome visitors from Southeast Asian countries and beyond.
The top floor will have a viewing platform that overlooks the spectacular Mekong River and across to the Cambodian border.
The warehouse is located 3km from the Laos-Cambodia border, with the first phase of development to cover an area of 120,000 square metres. The project will comprise a warehouse, customs office, company dormitories, a cold storage area and other facilities.
The warehouse will be a key logistics hub for trade between Laos, China, Thailand and Cambodia.
The Sithandone SEZ is located in Khong district, a large island in the Mekong River in Champassak province and a hub for visitors to the Khonphapheng Falls, the biggest waterfall in Southeast Asia.
The falls are just over 100km from the provincial capital of Pakxe and close to the Laos-Cambodia border. Officials say the thundering cascade is a massive tourist draw and was considered an appropriate site for the SEZ as it would bring more business to the area.
The master plan of the Sithandone SEZ features several high rises that will serve as hotels, restaurants, a shopping centre and other tourism-related businesses.
In the first phase of the project (2018-2025), the developer will install the necessary infrastructure including roads, water supply and drainage. The second phase may include an airport because of the intended scale of the project.
This year, the developer plans to build facilities on an area of 66 hectares. The construction of a golf course and fishing lake is already complete.
By Times Reporters
(Latest Update August 3, 2022)