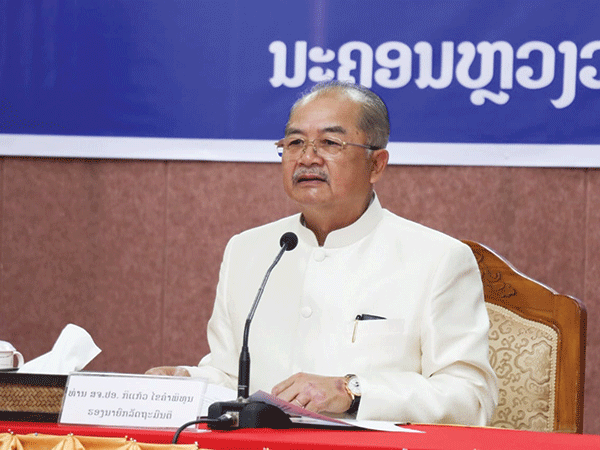 Deputy PM Prof. Dr Kikeo Khaykhamphithoune.
Tourism viewed as priority to boost growth: Deputy PM

The government considers tourism as its top priority in revitalising the economy and the country is preparing to welcome an influx of foreign visitors this year, a senior leader has said.
"We need to improve facilities so we can accommodate more tourists this year and ensure that tourism makes a strong contribution to economic growth," Deputy Prime Minister Prof. Dr Kikeo Khaykhamphithoune told a national meeting organised by the Ministry of Information, Culture and Tourism on Tuesday.
The meeting was attended by the Minister of Information, Culture and Tourism, Mrs Suanesavanh Vignaket, and senior officials from the three sectors countrywide.
Dr Kikeo called for ministry officials to maximise the potential offered in Laos following the opening of the Laos-China Railway in 2021 and the reopening of the Laos-China border on January 8.
"The Laos-China Railway brings a lot of tourists to our country. In addition, Russian Airlines launched a Vladivostok-Vientiane flight in October - the first civilian flight between our two countries. Now we need to formulate a clear plan to welcome international visitors, otherwise they will just pass through our country," he said.
Dr Kikeo stressed that tourism-related businesses must improve their services and tourist attractions, as well as diversify tourism products and activities in response to travellers' needs and expectations.
Laos has huge potential to develop natural, cultural, historical and agro-tourism sites and devise programmes in which visitors can actively participate.
Last year's records indicate that more than 1.68 million tourists made trips in Laos, equalling 85.5 percent of the target set for 2022 and generating more than US$219 million in revenue.
Of this figure, 1.06 million people were Lao nationals, equalling 97.2 percent of the plan, while 644,756 foreign tourists visited Laos, equal to 71.63 percent of the plan.
This year the Ministry of Information, Culture and Tourism aims to attract at least 1.4 million foreign tourists to Laos, despite the huge slump in visitor numbers last year.
In recent years, dozens of new tourist attractions have opened, creating job opportunities for local people.
Laos currently has more than 3,000 hotels and guesthouses, which offer 67,370 rooms. The figure includes 759 hotels with 27,941 rooms and 2,331 resorts and guesthouses with 39,357 rooms. There are also 33 food gardens, 2,994 restaurants and 140 entertainment venues.
Laos has been ranked by several media organisations as one of the world's top travel destinations for 2023.
Just recently, the US-based multinational news channel CNN included Laos in its list of 23 best destinations to visit in 2023, further raising the country's profile in the global tourism landscape.
In addition, National Geographic, one of the most widely read and respected magazines in the world, selected Laos among 25 breathtaking places to visit this year.
The Telegraph, a highly-regarded British newspaper, also named Laos in its list of 20 special places to visit in 2023.
By Somsack Pongkhao
(Latest Update January 25, 2023)