Laos-China railway carrying more freight

Thailand is shipping more freight to China by rail since the opening of the Laos-China railway last year, according to a Thai PBS report.
The increase in Thai exports to China by rail, especially agricultural produce, is due to the reduced time taken to ship goods by rail, which has dropped from about three weeks to around three days.
According to Thai PBS, officials from Laos, Thailand and China are mulling the building of a new railway bridge, running parallel to an existing one, to facilitate the cross-border transport of cargo containers.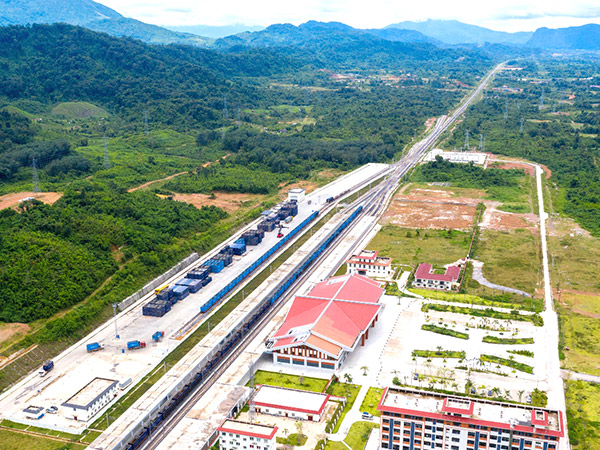 More than 1 million tonnes of freight have been transported on the Laos-China railway to date.--Photo Phoonsab
There is currently no rail connection between the Laos-China railway and Thailand's rail network.
Due to the different track gauges, Thai cargo containers bound for China must be unloaded from trains at a container terminal in Nong Khai and loaded onto container trucks to cross the Thai-Lao Friendship Bridge to Vientiane, where they are then loaded onto the Laos-China railway for transport to China.
Thailand is keen to use the railway to ship more agricultural produce, especially orchids, rubber, cassava, palm oil and fishery and livestock products, to China. Thai fruit shipped by rail can reach Chongqing in just 1-2 days.
In January this year, the first shipment of 1,000 tonnes of Thai rice was delivered to China via the Laos-China railway.
In March, two containers carrying 40 tonnes of durian and one container filled with 20 tonnes of coconuts from Rayong made their way to Laos and were then carried by the Laos-China railway to China. This was the first time the railway was used to carry Thai fruit to China.
Business operators in Laos, Thailand, Vietnam, Cambodia and Myanmar are now using the railway to ship goods to and from China and beyond.
More than 1 million tonnes of goods have been transported on the Laos-China railway since it became operational eight months ago, according to a Xinhua report. The total value of these goods is about 9.14 billion yuan (US$1.35 billion).
Goods shipped from China to Laos include general consumer items, fertiliser, electronics goods, textiles and vegetables among others, while products transported from Laos and neighbouring countries to China include iron and zinc ore, cassava flour, rice, charcoal, rubber, potash and fruit.
The Laos-China railway runs from the Lao-Chinese border at Mohan-Boten southwards to Vientiane. It is the first external rail route to connect to China's rail network and forms part of the larger Kunming-Singapore rail link, which will pass through Laos, Thailand and Malaysia.
However, construction of the Thai-Chinese section of this rail link from Bangkok to Nong Khai has been delayed. The first phase of construction, from Bangkok to Nakhon Ratchasima, is underway and expected to commence operations in 2026.
By Times Reporters
(Latest Update September 21, 2022)