Laos calls for peaceful resolution to global conflicts

A senior Lao leader has urged the international community to find peaceful and lasting solutions to conflicts and disputes by upholding the principles enshrined in the UN Charter to promote multilateralism and the shared interests of all countries.
Deputy Prime Minister and Minister of Foreign Affairs, Mr Saleumxay Kommasith, made the call when delivering a national statement on behalf of Laos at the 77th session of the United Nations General Assembly in New York recently.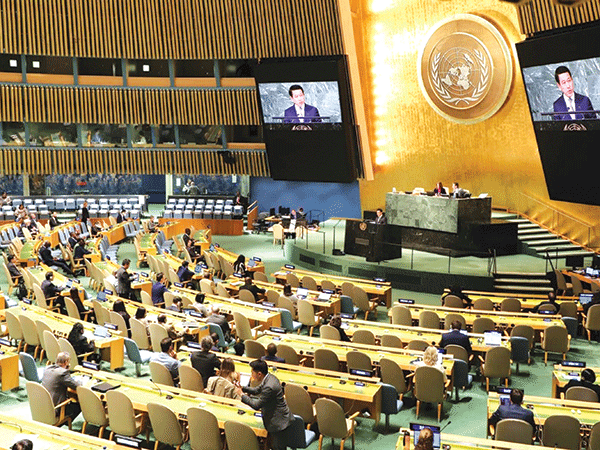 Mr Saleumxay Kommasith delivers his speech at the 77th session of the UN General Assembly in New York.
"These approaches, when adopted will provide not only transformative but also practical, effective and sustainable solutions, tailored to the most pressing needs, aimed at resolving ongoing armed conflicts and addressing environmental, economic and energy crises," he said.
The Deputy PM highlighted the ongoing multifaceted challenges the global community is currently facing.
Multilateralism, which remains at the heart of global efforts to maintain international peace, security and development cooperation, has been undermined and challenged, he said.
Mr Saleumxay observed that over the years Asean has enjoyed long-lasting peace, security and stability, which has created conditions conducive for the socio-economic development of all member states.
He emphasised the importance of maintaining Asean's centrality, unity, inclusivity and mutual respect, which has created a solid foundation for moving forwards under all essential regional cooperation frameworks.
The Deputy PM reiterated Laos' commitment to the fulfilment of international cooperation frameworks, which include UN programmes of action for Least Developed Countries, among others.
Laos has firmly supported peaceful solutions to global conflicts and disputes, guided by the UN Charter and international laws, Mr Saleumxay said.
In this regard, it is critical to strengthen international cooperation for common benefit, and to share these benefits among all nations, so that multilateralism remains at the core of international relations. To this end, more action-oriented solutions and non-politicised approaches must be adopted. He re-stressed that Laos will continue to build cooperation with all UN member states and promote collective efforts to advocate regional and global peace and stability, so as to create an environment conducive to sustainable development, environmental protection, and the implementation of the 2030 Agenda in order to bring about prosperity for all people of the UN.
The Deputy PM expressed his sincere appreciation to all member countries for the support extended to Laos' first-time membership of the Economic and Social Council of the United Nations (ECOSOC) for the term 2023-25 and reaffirmed the country's commitment to effectively serve and make meaningful contributions to the work of the ECOSOC. The government has implemented revised nationally determined contributions, aiming to reach net-zero carbon emissions by 2050.
By Times Reporters
(Latest Update September 27, 2022)