Authorities seize 7,000 litres of illegally imported fuel
Authorities have impounded two fuel tankers carrying 7,000 litres of petrol and diesel after it was found the drivers did not have the correct documents.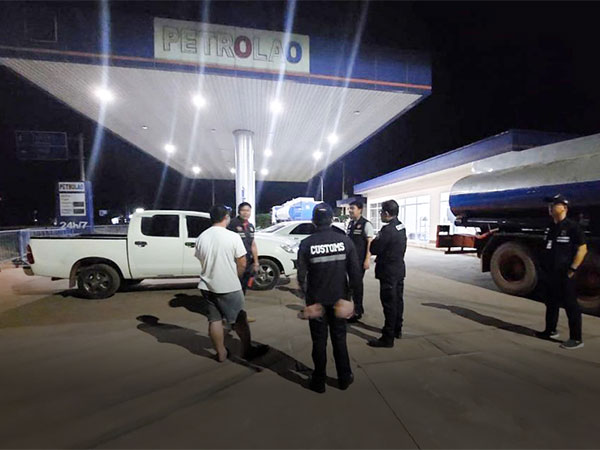 Officials question the drivers of fuel tankers carrying illegally imported petrol. --Photo Ministry of Finance
Officers from the Investigation and Suppression Division stationed at the Danxi coordination centre in Naxaithong district and Banmai coordination centre in Sikhottabong district in collaboration with Ministry of Finance officials impounded the fuel tankers at around 11pm on Tuesday.
The investigation by authorities occurred after they were informed by local residents about suspect vehicles driving on Road 13 North, the Ministry of Finance said on its website.
One of the tankers was carrying 4,000 litres of petrol and the other was carrying 3,000 litres of diesel.
The confiscation of the fuel is the latest in a series of such incidents. Every year, a huge amount of petrol is smuggled into Laos, with state officials and importers conspiring in the illegal practice.
Around 700 million litres of fuel are smuggled into Laos every year, Prime Minister Phankham Viphavanh told the National Assembly in June.
Statistics provided by authorities in Thailand and Vietnam, from where Laos sources fuel, show that about 1,900 million litres enter Laos each year but only 1,200 litres are reported to the government by Lao authorities.
By Times Reporters
(Latest Update November 17, 2022)