Govt pledges to tackle economic woes
The government has instructed the agencies concerned to take stronger action to address issues ranging from macro-economic vulnerability, improvement of the investment climate, repayment of debts, and dealing with natural disasters.
The instruction was issued during the government's two-day cabinet monthly meeting, which wrapped up on Thursday.
Chaired by Prime Minister Phankham Viphavanh and attended by cabinet members, the meeting told the entities responsible to ensure a sufficient supply of fuel across the country and to better regulate inflation and currency exchange rates.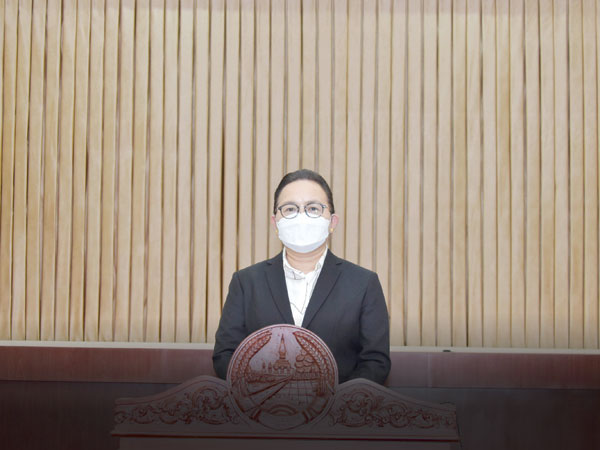 Mrs Thippakone Chanthavongsa.
"The sectors responsible must place more emphasis on regulating the price of products on sale in markets and settling the nation's public debts in various ways, particularly debts owed by state-owned enterprises," Government Spokesperson Mrs Thippakone Chanthavongsa told a press conference.
She emphasised that it was essential to avoid accruing new debts because the government had pledged not to allow the country to default.
The government stressed that state funds would not be spent on unproductive projects that were not economically beneficial, saying it would concentrate on priority programmes relating to poverty reduction.
The government also pledged to improve the investment climate to encourage more private investment, and ensure the continued progress of foreign investments that had already been approved.
Cabinet members agreed it was important to ensure more foreign currency enter Laos and to inspect investment projects to ensure they are carried out as planned.
The meeting agreed that the bodies responsible should partner with the Laos-China Railway Company Ltd. to improve train services, especially the sale of tickets and other train-related services.
Government bodies were also told to deal with the impacts of recent flooding across the country.
Flood-damaged infrastructure including roads and bridges must be repaired to enable the transport of goods and people. In addition, flooding that occurred in Vientiane due to blocked drainage channels must be resolved.
Several important documents were endorsed during the meeting.
The first concerned the five-year plan (2021-2025) on enacting and amending laws, while the second related to the strategic cooperation plan (2022-2026) between the Lao government and the World Bank.
The third was related to concession activities, and another concerned the progress made in implementing priority programmes approved by the National Assembly. These projects are mostly linked to the government's attempts to address Laos' current economic and financial problems.
The final document related to the national strategy to combat money laundering and the financing of terrorism.
The government stressed the importance of curbing extravagance and promoting austerity. This would be done by reducing government spending, especially on state vehicles, meetings, visits by delegations overseas, receptions for foreign delegations visiting Laos, and the use of electricity and water.
By Somsack Pongkhao
(Latest Update August 26, 2022)