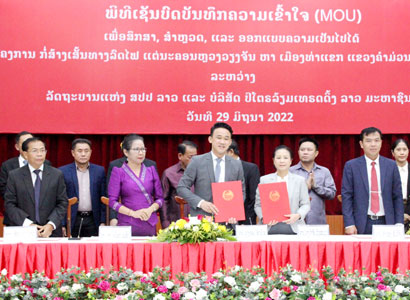 Deputy Minister of Planning and Investment Ms Khamchanh Vongseneboun and Vice President of Petroleum Trading Lao Public Company Mr Viengkhone Sitthixay display the signed MOU on Wednesday.
Govt greenlights feasibility study and detailed design of Vientiane-Thakhaek Railway
The Memorandum of Understanding (MOU) signing ceremony to conduct the Feasibility Study and Detailed Designed of the railway project from Thakhaek district, Khammuan province to Vientiane, Laos between the Lao government and Petroleum Trading Lao Public Company (PetroTrade) was held on June 29, 2022 at the Ministry of Planning and Investment, Laos.
The MOU was signed by Ms Khamchanh Vongseneboun, Deputy Minister of Planning and Investment and Mr Viengkhone Sitthixay, Vice President of PetroTrade under witness by senior representatives from the government and the company.
The Lao-Vietnam Railway Project (LVRP) is the development project which aims to construct a single rail track for electrified locomotives with a total length of 452 kilometres in Laos and 105 kilometres in Vietnam.
The project will be divided into two railways, one starting from Thakhek district in Khammuan province, Laos, to the Vung Ang Seaport in Vietnam over a distance of 139.19 kilometres, and the other being a railway from Vientiane to Thakhaek over a distance of 312.81 kilometres.
With the aim of building international integration, a railway from Vientiane to Thakhek is part of the Laos Logistics Link (LLL) project, comprising the Vung Ang Seaport, the Laos-Vietnam Railway, Thanaleng Dry Port and Vientiane Logistics Park.
The Laos-Vietnam Railway will play a significant role in connecting the Vung Ang Sea Port with the Thanaleng Dry Port and Vientiane Logistics Park with the Laos-China Railway.
PetroTrade is part of the PTL Holding Co., Ltd., which is 100 percent owned by the country's leading business group.
It has the capacity for investment and its outstanding performance matches international standards.
The company has been granted top priority by the government to carry out the development of these projects in order to contribute to the implementation of the government's efforts to transform land-locked Laos into a land-linked country.


By Advertorial Desk
(Latest Update July 1, 2022)