JETRO's manufacture investment mission to Savannakhet SEZ C-Savan Park
A visit by Japanese investors, led by the General Director of JETRO's Manufacturer Investment, Mr Kikuchi Yasushi, to the Savannakhet Special Economic Zone C - Savan Park marks a boom in investment in the area.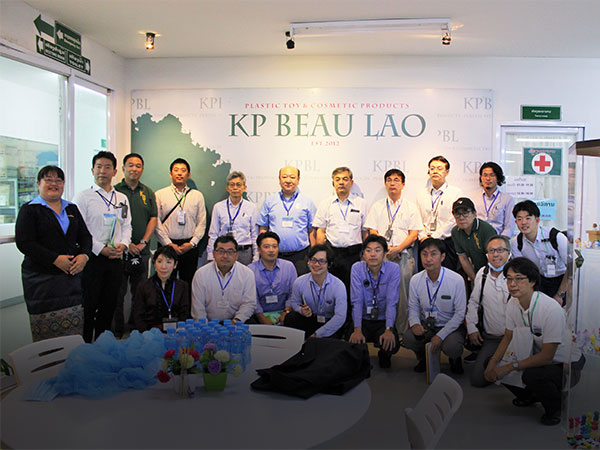 Business operators join representatives of Savannakhet SEZ C-Savan Park for a photo at KB Beau Lao on November 16.
The group visited the Special Economic Zone on November 16, after the development of the site into an international checkpoint under Prime Minister's Decree No. 510.
The visitors were welcomed by the General Manager of Savan Park, Mr Tee Chee Seng; CEO of Savan Logistics and Founder of the Savannakhet Dry Port, Mr Jean Pierre Grzelczyk; and staff at the Savannakhet SEZ.
During the meeting, Mr Tee Chee Seng outlined the benefits of investment in Savan Park.
"Savan Park is 100 percent open for foreign investment. Its many benefits for investors include an efficient one-stop service (SEZA), reduced utilities charges, and use of Laos' Everything-But-Arms (EBA) status for the export of goods to the European Union," he said.
"The Lao government offers numerous incentives and privileges to investors in the Savannakhet SEZ with a reasonable price of doing business," he added.
Savan Park has completed all infrastructure utilities and logistics services at the Savannakhet Dry Port and is now an attractive investment destination.
Meanwhile, the Silk Road, which is changing Laos from being landlocked to a land link with the region and linking China to Singapore over a distance of nearly 4,500 kilometres, is serving as a significant booster of economic growth in Laos.
Mr Tee also described the government's policy in relation to investors, especially in priority sectors such as machinery and equipment, aviation, apparel manufacturing, electrical product manufacturing, and wire harness manufacturing.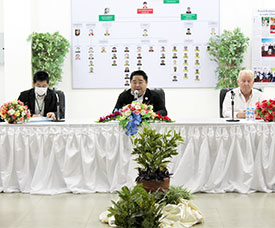 Mr Tee Chee Seng (centre) and Mr Jean Pierre Grzelczyk (right) on Wednesday chair the meeting at the Savannakhet SEZ.
Currently, there are 77 companies registered in Savannakhet SEZ C, including 42 manufacturing companies, 25 service providers, and companies operating in the commerce sector.
After the meeting, the group of business operators visited sites of interest in Savannkhet SEZ C such as a Japanese toy manufacturing company, KP Beau Laos and another Japanese factory, Misuzu Laos, which produces electrical cable and other equipment.
Savannakhet SEZ is located on the East-West Economic Corridor, through National Road 9 in Savannakhet province.
It was the first Special Economic Zone to be built in Laos and the Savannakhet Dry Port was the first approved dry port to be acknowledged by UNESCAP.
The Savan Seno Special Economic (Savan Park Zone C) has been built on 234 hectares.
Former President Bounnhang Vorachit signed a ratification of the Savannakhet Dry Port to comply with UNESCAP requirements on October 16, 2019.
The Savan Seno Special Economic Zone is part of the Greater Mekong Sub-Region (GMS) development programme.
As of November 2022, a total of 193 companies are currently registered in the SEZ, while the value of investment has risen to over US$584 million.
The value of transit cargo at Savannakhet Dry Port in 2020 was US$6,855,500,323, rising to US$9,445,539,694 last year.
The value of imports and exports through the site reached US$9.5 billion in 2021, while the value of imports and exports from January to October this year amounted to nearly US$4.7 billion.
From January to September this year, Savannakhet SEZ authorities paid over 28 billion kip in taxes.
Savan Park is fully protected by Prime Minister's Decree 177, which is dedicated to investment in the Savan Seno Special Economic Zone and was approved in 2003. As of today, the zone is still complying with this decree and investors are confident in it.
The Prime Minister's Decree offers a 2-to10 year tax holiday, 8 percent or 10 percent company profit tax, 5 percent personal income tax, zero VAT, zero customs duty, and other incentives to businesses investing in the zone for a period of 75 years.
| | |
| --- | --- |
| | |
| Business operators join representatives of Savannakhet SEZ C-Savan Park for a photo at Misuzu Laos on November 16. | A group photo is taken at Savannakhet Dry Port in recognition of the visit by the General Director of JETRO's Manufacturer Investment, Mr Kikuchi Yasushi, and Japanese business operators on November 16. |
By Advertorial Desk
(Latest Update November 18, 2022)