Laos, Japan partner in provision of caregivers for Japan

Japanese specialists are to provide training for Lao nationals in the field of care for elderly people, with the aim of sending about 50 Lao caregivers to Japan by October 2023.
The Japan Hospitality Learning Centre Association (JHLCA) recently signed a contract with the Skill Development Institute of the Ministry of Labour and Social Welfare on the scheme to train caregivers and provide them with job opportunities in Japan.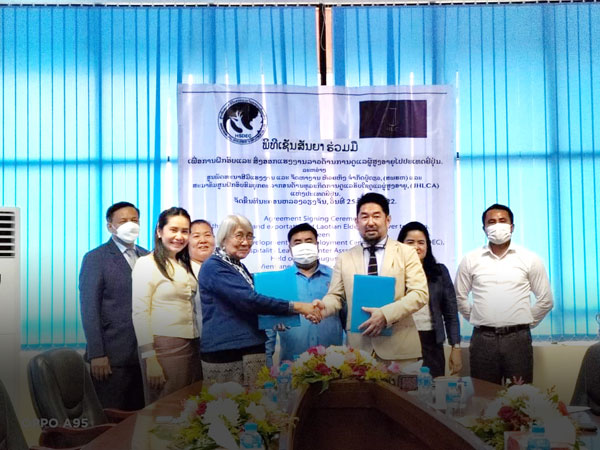 Mr Kasutaka Nakao (right, centre) and Mrs Chanthasone Inthavong shake hands after signing a project agreement, witnessed by Mr Bounma Sithisom (back, centre).
Director of the JHLCA, Mr Kasutaka Nakao, and Director of the Houayhong Center for Skill Development and Employment, Mrs Chanthasone Inthavong, signed the agreement in the presence of Deputy Minister of Labour and Social Welfare, Mr Phongxaysack Inthalath, and the Director of the Skill Development Institute, Mr Bounma Sithisom.
This project was welcomed by the Ministry of Labour and Social Welfare and the Ministry of Health.
While working in Japan, Lao caregivers will enjoy benefits under the same laws and regulations as Japanese workers in the same position.
Their expected average gross income (before taxes and expenditure) in Japan will be about 20 million kip per month or 264 million kip per year, depending on currency exchange rates.
Immigration lawyers in Japan will provide visas for the Lao caregivers and deal with other paperwork as necessary.
Under the agreement, the two parties and their partners will jointly provide free courses in Japanese language and caregiver training in Laos and arrange for those who are qualified to travel to Japan.
Mr Bounma said the training courses will be conducted in Lao and Japanese by experienced caregiver instructors from Laos, Thailand and the Philippines, who are familiar with Japanese-style care for the elderly.
The trained Lao caregivers, with the approval of the Ministry of Labour and Social Welfare, will be sent to Japan to work under 5-year contracts with a Specified Skilled Worker Visa.
The initiative is aligned to the Lao government's policy on human resource development and poverty alleviation and is viewed as an important contribution to reducing unemployment and poverty issues that many young people in Laos now face.
The scheme also falls within the framework of the recently signed Memorandum of Understanding between the governments of Asean countries and Japan concerning the employment of Specified Skilled Workers from Asean countries, including Laos.
A Memorandum of Cooperation on Specified Skilled Workers was signed in Vientiane on July 28 between Laos and Japan to enable the training and dispatch of Lao workers to Japan.
Trainees selected for the programme must be in good health and aged 18-35. Preference will be given to females.
Applicants must be high school graduates or have achieved a higher level of education, Nihongo Kentei JLPT Level N4, JFT A2 or above, with N3 and N2 certificate holders to be given preferential treatment.
Successful applicants will be given a specified skill evaluation test sponsored by Japan.
Applicants must be able to work in Japan for five years under a Specified Skilled Worker visa, agree not to change jobs for 3+2 years, and strictly comply with Japanese laws.
By Phetphoxay Sengpaseuth
(Latest Update September 1, 2022)