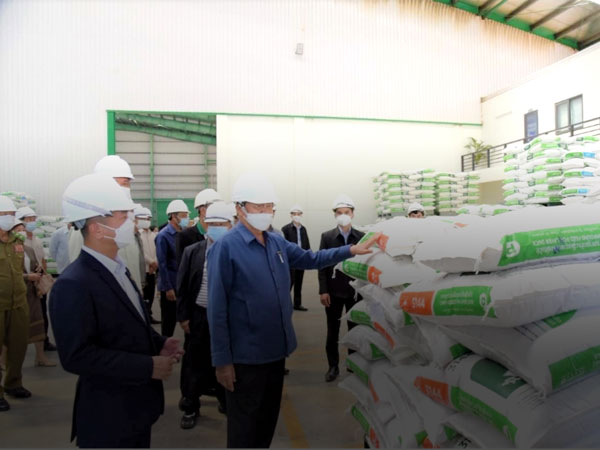 President Thongloun Sisoulith visits an animal feed manufacturer in Xaythany district.
President urges animal feed companies to boost output

President Thongloun Sisoulith, who is also Party Secretary General, and his delegation on Wednesday visited the Friendship Agriculture Co., Ltd. and Green Fest Lao Co., Ltd. in Xaythany district, Vientiane, where he was welcomed by the Mayor of Vientiane, Mr Atsaphangthong Siphandone.
The president made helpful suggestions to the management of the two companies, advising them about improved production techniques and the need to use good quality raw materials, as well as paying less for imported items.
He also stressed the need for the companies to export more of their products, saying this would broaden their market and bolster productivity.
Products made for export must be able to compete in terms of quality, he said, while marketing, services and pricing must be carried out appropriately. The overarching aim of increased productivity is to reduce the need for imports, the president said.
He advised the companies' management to increase output in order to meet the high demand for animal feed in Laos, and to produce more for export in order to earn more foreign currency.
This would be a significant contribution to solving the government's financial difficulties, as well as strengthening the economy going forward.
President Thongloun heard a report on the operations of the two companies and learnt that Green Fit Lao Co., Ltd. has the capacity to produce 3 million tons of animal feed a year, or 20 tons per hour.
The company makes feed for chickens, ducks, fish, cattle, quail and frogs.
In the first phase of production in 2020, the company produced 40,000 tons; in 2021 the amount fell to 28,000 tons, but this year output is expected to climb back to 40,000 tons.
Ninety percent of the raw materials come from crops such as sweetcorn, barley and cassava.
The two companies are facing difficulties such as price competition, access to finance, shortages of currency and fuel, problems in the transport of raw materials and other issues.
By Phetphoxay Sengpaseuth
(Latest Update June 24, 2022)