Australia extends support to Laos through volunteer programme
The Australian government is continuing to support Laos in achieving the Sustainable Development Goals by providing Australian volunteers with specific skills and abilities to share lessons and work experience with public sector employees in Laos.
So far, more than 650 Australian volunteers have worked with government organisations in Laos.
The duration of their contracts varies and includes three-month, six-month, one year, and two year stints. Australian volunteers are stationed at both the central and local levels to support the needs of various sectors of government, such as education, health, agriculture, and energy.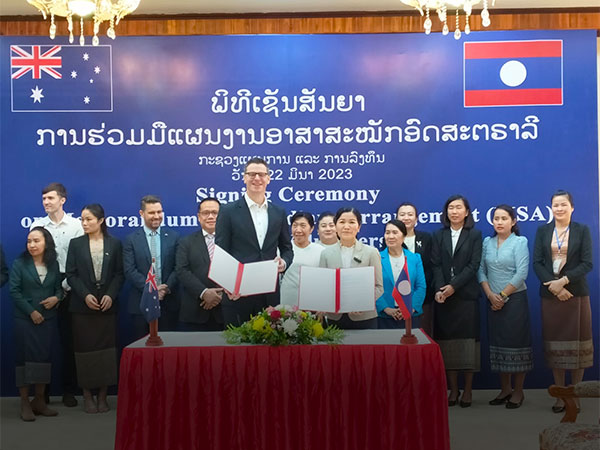 Ambassador Paul Kelly and Mrs Phonevanh Outhavong display signed agreements on the Australian Volunteers Programme.
A Memorandum of Subsidiary Arrangement on future support through the Australian Volunteers Programme was signed on Wednesday between Deputy Minister of Planning and Investment Mrs Phonevanh Outhavong and the Ambassador of Australia to Laos, Mr Paul Kelly.
Representatives of the ministries of Foreign Affairs, Home Affairs, Industry and Commerce, Education and Sports, Health, Agriculture and Forestry, Labour and Social Welfare and other officials representing Laos and Australia witnessed the signing.
The Australian volunteer programme plays an important role in strengthening relations and mutual understanding between Laos and Australia, especially in the communities where volunteers work, such as Vientiane Women and Youth Development Health Centre, Luang Prabang provincial Health Department, Lao Friendship Hospital, Vientiane Renewable Energy Centre and other places.
Mrs Phonevanh said "Based on the Sustainable Development Goals and Laos' ambition to graduate from the list of Least Developed Countries, the government is placing a greater emphasis on human resource development. This has been incorporated into the 9th five-year National Socio-Economic Development Plan for 2021-2025."
"The Australian Volunteers Programme is one of the great supports to improve the capacity of government staff and is in line with our national development programme."
Mr Kelly said "We are especially proud of the Australia Volunteers Programme's contribution to Laos' socio-economic development and to enhancing the bilateral relationship and our people-to-people links."
By Times Reporters
(Latest Update March 23, 2023)