Belt and Road Initiative spurs massive investment, job creation

More foreign and local business operators are eyeing lucrative opportunities in Laos and ploughing more investment into the country, thanks to improved infrastructure and connectivity as a result of the Belt and Road Initiative (BRI).
Initiated by China 10 years ago, the global infrastructure development project includes the construction of a railway connecting the Lao capital Vientiane to China and beyond, providing cost-effective transport services.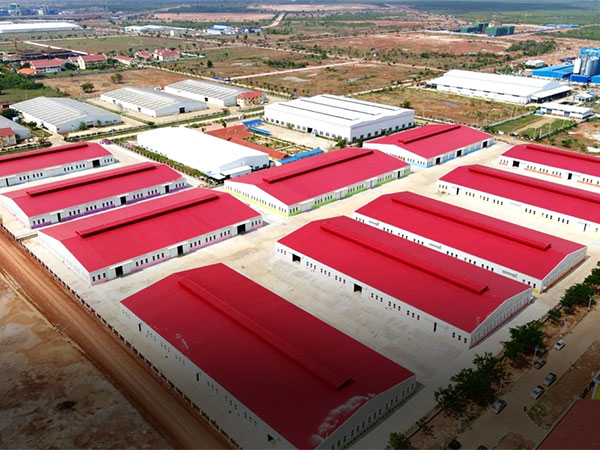 Bird's eye view of Vientiane Saysettha Development Zone. Photo Vientiane Saysettha Development Zone.
Also as part of the BRI, the Vientiane Saysettha Development Zone is being jointly built in the Lao capital by Laos and China, attracting huge investment, said Mr Xiong Jun, General Manager of Lao-China Joint Venture Investment Co., Ltd. – the developer of the zone.

Some 127 businesses from countries such as China, Thailand, Japan, Malaysia, Singapore, Laos, the United States of America and Switzerland have signed agreements on investment in the zone.
"Once all these companies have production lines in place, they will be able to generate a combined production value of US$1.8 billion and create more than 10,000 jobs," Mr Xiong said.
He made the comment when addressing the recent launch of media coverage to highlight the achievements made through cooperation projects in Laos under the BRI.
Of these 127 companies, the manager added, 64 already have production lines up and running. Dozens of other companies are in the process of building manufacturing plants in the special economic zone, which has been under construction and expanding since 2010.
The developer has spent US$600 million on key infrastructure and facilities in the zone to encourage and facilitate investment by these companies.
So far, investment by the enterprises in the zone has reached US$700 million, with 6,000 jobs being created.
Products already being and planned for manufacture in the zone include electronic appliances, electrical equipment, medicines, and clothing. Transport and services businesses also plan to set up bases in the zone.
The zone's developer is now working on the second phase, which comprises construction of a commercial and tourism area as well as a new urban development to offer more investment opportunities.
With landlocked Laos increasingly becoming a regional land link, business executives say more companies are eyeing opportunities in Laos or through Laos.
The Laos-China Railway, which opened for service in December 2021, links Laos to China. Through land and rail links, Laos connects Southeast Asian countries to China and Europe and offers competitive transport and logistics costs.
Chanthone Sitthixay, Chairman of Vientiane Logistics Park Co., Ltd. – the developer of the Thanaleng Dry Port where the Laos-China and Laos-Thailand railways converge – said Laos has become a trade gateway between China and the Asean region.
Growing connectivity with cost-effective transport and logistics services has made Laos a more attractive place for investors.
Whether manufacturing or assembling goods in Laos, investors enjoy privileged access to markets in countries whose governments have waived or reduced import tariffs on made-in-Laos products.
More than 30 countries including Australia, Canada, members of the European Union (EU 28), Japan, New Zealand, Norway, Russia, Switzerland and Turkiye have extended such privileges to Laos.
Cheaper transport costs thanks to the extended rail network have also benefited businesses in countries in the region.
The President of Thailand's Kaocharoen Train Transport Co., Ltd., Panya Paputsaro, whose company has made several shipments via the Laos-China Railway, mainly consisting of durian, from Thailand to China, said shipment by rail cuts transport costs by 30 percent. In addition, speedy delivery brings fresher fruit to Chinese customers.

By Times Reporters
(Latest Update June 16, 2023)