FAO, agriculture ministry launch new projects to bolster food security
The Food and Agriculture Organisation of the United Nations (FAO) is continuing to help strengthen agriculture and rural development in Laos with the signing of three projects on Tuesday.
The three projects, namely Strengthening Capacity for Planning and Development of the Tea Master Plan; Mainstreaming Biodiversity across Agricultural Sectors; and Technical Assistance for the Development of the National Action Plan for Sustainable Food Systems, were signed between the Ministry of Agriculture and Forestry and FAO.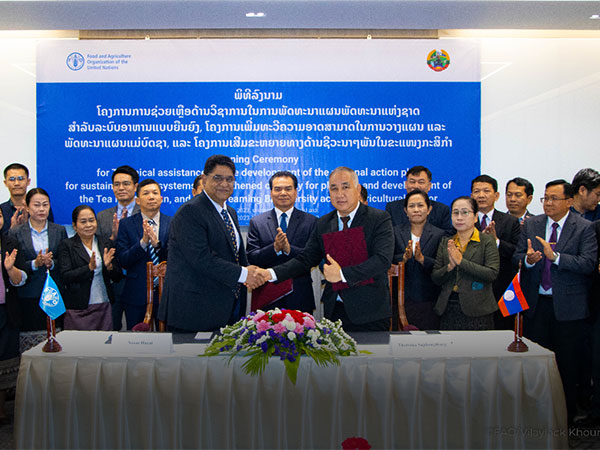 Representatives of FAO and the Ministry of Agriculture and Forestry shake hands at the project signing ceremony on Tuesday.
The projects will see FAO work closely with the Ministry of Agriculture and Forestry to support further development in three key areas in line with government priorities and its pathways towards sustainable agriculture development, commercialisation, food security, and nutrition.
Speaking at the project signing ceremony, Minister of Agriculture and Forestry Dr Phet Phomphiphak said food insecurity is a global concern that must be handled strategically and Laos needs to take the same approach. This requires support from all relevant stakeholders, including from government, academia, and the private sector.
The minister expressed his appreciation of the long-standing support and contribution made by FAO to the agriculture sector.
This support is helping to ensure that people around the country have sufficient and nutritious food to survive as well as generate means to increase their income and improve their livelihoods.
FAO Representative to Laos Mr Nasar Hayat said "FAO is always honoured to support the development of Laos through its agriculture sector." "The tea sector has remained underdeveloped largely due to fragmented information and lack of investment in key areas of the tea value chains and lack of long-term planning, but Lao tea growers are now set to enjoy greater benefits."
The FAO Representative also said "FAO aims to bring sustainable biodiversity-friendly practices to scale by integrating biodiversity in decision-making across policies, projects, economies and throughout society."
"Through biodiversity mainstreaming, agrifood systems have the potential to make a significant contribution to biodiversity conservation, sustainability and restoration, and to the 2030 Agenda as a whole."
"With the effort to establish a national process and coordination mechanism as a follow up from the Food System National Dialogue, FAO also aims to help build the capacities of the Ministry of Agriculture and Forestry and other ministries required to focus on priorities and implement key recommendations identified in the Synthesis Report 2021 (Pathways to Sustainable Food Systems)," Mr Hayat said.
He reiterated FAO's commitment to support Laos to achieve better production, a better environment, better nutrition, and a better life, while leaving no one behind.
The signing ceremony was attended by senior government officials, FAO colleagues and development partners.
By Times Reporters
(Latest Update January 26, 2023)