Fifth Lao-Thai Friendship Bridge now 69 percent complete
The Fifth Lao-Thai Friendship Bridge, linking Borikhamxay province to Bueng Kan province in Thailand across the Mekong River is now 69 percent complete and is expected to be fully complete by the end of 2024.
Project Director Mr Laythong Phommavong said the project consists of two components. One of these is the construction of the bridge on the Lao side of the river, over a distance of 535 metres.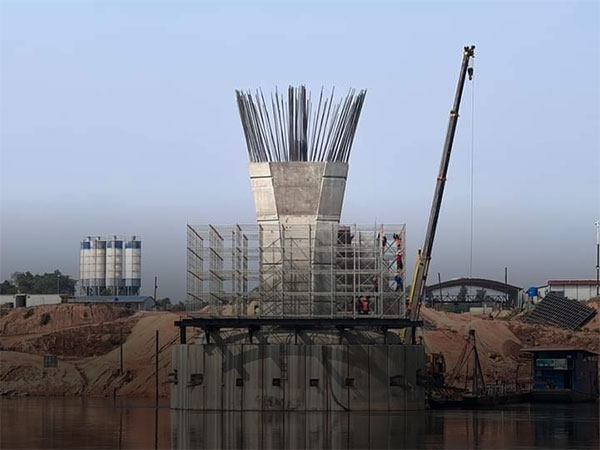 The under-construction 5th Lao-Thai Friendship Bridge in Borikhamxay province.
The second component is the construction of a 2,775-metre access road, immigration and customs buildings and other structures on the Lao side. The planned construction period is 30 months, and the warranty period is 24 months.
Mr Laythong outlined the progress of construction in relation to the targets set for February 2023. In Phase I, 55.5 percent of construction work has been completed, exceeding the target by 2.67 percent. In the second phase, construction of the access road to the bridge and immigration and customs buildings is now 82.26 percent complete, falling short of the target by just 2.50 percent.
"Overall, the progress of both phases of construction as of February is now 69.1 percent complete, exceeding the target by 0.08 percent," Mr Laythong said.
Construction of the bridge and the access road will wipe out 52.4 hectares of farmland, requiring the government to pay 5.33 billion kip in compensation to farm owners.
To date the government has paid 3.672 billion kip to land use rights holders, accounting for 68.78 percent of the total owed in compensation.
Mr Laythong said that in March the plan is for Phase I of the project to reach 55.59 percent of completion while the second phase will see 89 percent completion.
Overall, the work plan for March will see the two project components reach an average 72.71 percent completion. Construction is progressing well and some project components have been completed ahead of schedule.
The bridge is viewed as a significant pillar for economic growth. It is envisaged that it will become another trade and transit route for Laos and neighbouring countries.
The project was agreed to in August 2019 when the government secured a loan of 1.38 billion baht from Thailand's Neighbouring Countries Economic Development Cooperation Agency (NEDA) to build the bridge, with the total cost to be shared between Laos and Thailand.
Once completed, the bridge will serve as an important transport corridor connecting Thailand and several Vietnamese cities via Laos. It will help strengthen relations and cooperation between Laos and Thailand in their joint efforts to promote growth and sustainable development in the period 2022-2026.
By Times Reporters
(Latest Update March 24, 2023)