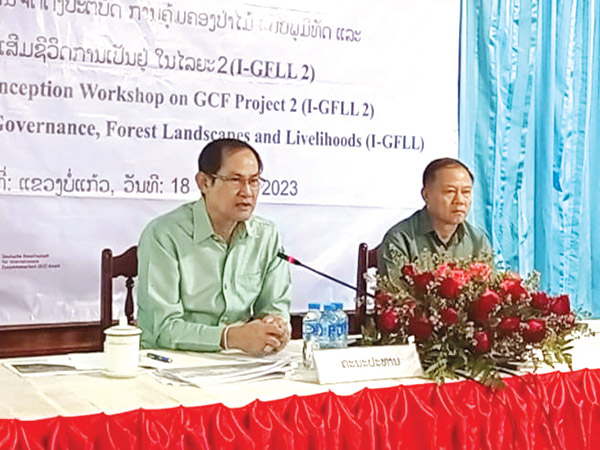 Bokeo​ provincial official​s meet with officials from the Ministry of Agriculture and Forestry to discuss the rollout of Phase II of the Implementation of Governance, Forest Landscapes and Livelihoods project.
Germany grants EUR32m for forest protection

The German government has provided a grant of about EUR32 million to finance environmental protection schemes in the northern provinces of Laos.
Of this amount, EUR18 million will be managed by the Environmental Protection Fund and EUR14 million by the German development agency GIZ.​
The project will implemented in Oudomxay, Luang Namtha and Bokeo provinces from 2023-2027, benefitting 240 villages in 12 districts, according to the Bokeo television station.
Bokeo​ provincial officials and representatives of GIZ recently shared their ideas on the implementation of the project in Bokeo province and reported on the positive results of Phase I of the project in recent years.
The government has drafted an agreement on the establishment of a steering committee and project coordination committees at the provincial and district levels, defining the criteria for selecting target villages and preliminary analysis results in preparation for implementation.
Phase I of the project was rolled out in Xayaboury, Luang Prabang and Huaphan​ provinces from 2020 to 2023, benefitting 240 villages in 15 districts by encouraging the sustainable management of forests, landscapes and agricultural resources.
During earlier phases of the project from 2009 to 2019, Laos made tangible progress towards fulfilling the Sustainable Development Goals, especially in relation to the mitigation of climate change, by reducing greenhouse gas emissions from the land use and forestry sector.

By Times​ Reporters​
(Latest Update May 22, 2023)