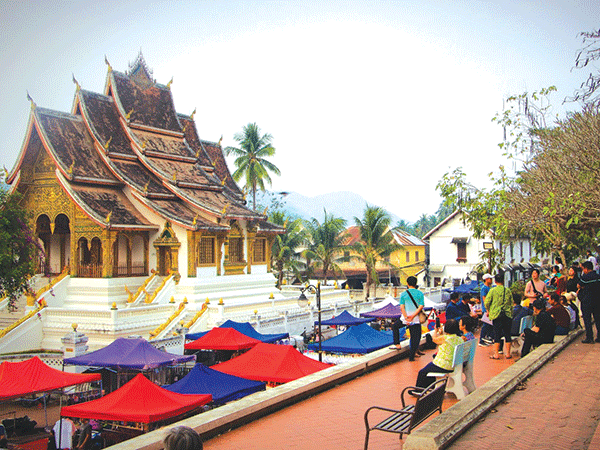 Luang Prabang is experiencing a surge in tourists from South Korea, Thailand and China.–Photo Tom
Influx of Chinese visitors could overwhelm hospitality sector: expert
Laos may struggle to deal with the expected surge in Chinese visitors arriving on the Laos-China railway from Kunming, the capital of neighbouring Yunnan province in China, a leader in the hospitality sector has said.
President of the Hotel and Restaurant Association, Mr Pakasith Chathapaya, told Vientiane Times this week that the association is working with state bodies to prepare for the arrival of a large number of foreign tourists.
"My concern is that our hotels and restaurants may not be able to accommodate large groups of Chinese visitors. For instance, if groups of 100-200 people arrives at a restaurant, I don't think the restaurant could cope," Mr Pakasith said.
"Most of the restaurants in Laos are small and can accommodate only small groups of visitors at any one time. More investment in the hospitality sector is needed if we are to be able to welcome large numbers of foreign visitors."
Starting on February 6, travel agencies and online tour service providers in China have been authorised to arrange group tours to 20 countries, including Laos.
Mr Pakasith said "We have seen increasing numbers of Chinese visitors in towns in Laos, especially in Luang Prabang, and many of them arrive in Laos on the Laos-China railway. Luang Prabang is also experiencing a surge in tourists from South Korea and Thailand."
Open for service since December 2021, the railway connects Vientiane to Kunming over a distance of 1,035 kilometres. The Lao section of the railway runs between Vientiane and Boten on the Chinese border.
Once trains run directly between Vientiane and Kunming and immigration procedures at the border crossing are streamlined, many more Chinese will come to Laos, Mr Pakasith said.
In 2019, Chinese tourists made 155 million journeys outside the country, with more than one million visiting Laos.
"Our association has asked the government to set up a tourism promotion council that will gather all the sectors concerned to address the issues facing the tourism industry," he said.
"The council could help strengthen tourism-related businesses to improve their services, particularly railway operations and bus services, as well as restaurants and facilities at tourist attractions."
Mr Pakasith stressed the importance of more tour guides learning Chinese, as well as tourist safety.
More than 1.68 million tourists made trips in Laos last year, equalling 85.5 percent of the target set for 2022 and generating more than US$219 million in revenue.
This year the government has made tourism a top priority for revitalising the economy and is aiming to attract at least 1.4 million foreign tourists to Laos, according to the Ministry of Information, Culture and Tourism.
By Somsack Pongkhao
(Latest Update March 17, 2023)