Lao Brewery Company offers new non-alcoholic beverages for Lao market

Lao Brewery Company, a leading beverage manufacturer and distributor in Laos, has introduced two imported brands of non-alcoholic drinks - "Carlsberg 0.0" and "Somersby 0.0" – for the domestic market under the concept "Free Feels Good".
These two products are becoming very popular in global markets as they pass through a high-quality manufacturing process that is accepted internationally.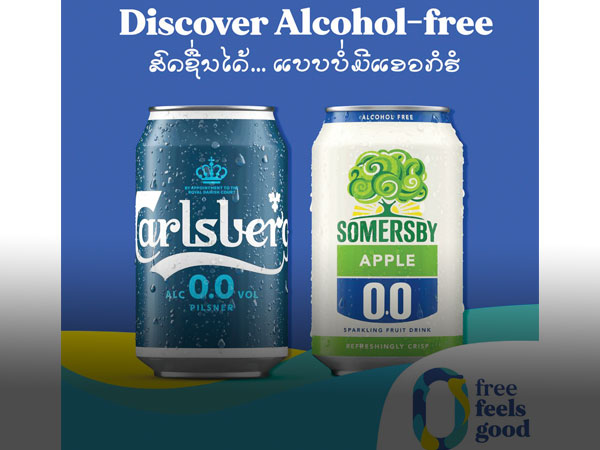 Therefore, Carlsberg 0.0 and Somersby 0.0 provide a choice for people to drink and socialise during various occasions and events. The two types of non-alcoholic drinks are available at various stores only in Vientiane.
People can taste Carlsberg 0.0 and Somersby 0.0 at a Lao food festival which will be held at Chao Anouvong Park in Vientiane during January 24-28.
The non-alcoholic drinks reflect the innovation of the beverage manufacturer and distributor to respond to the changing need of people at different stages.
Non-alcoholic beverages are becoming increasingly popular around the world. In most of the European Union and the United States, a beer can be called alcohol-free it if contains less than 0.5 percent alcohol.
The creative manufacturing of non-alcoholic drinks provides an alternative choice for those who want to avoid drinking alcohol for certain reasons, including religious beliefs, health benefits, personal preferences, and driving responsibilities.
Non-alcoholic beverages have become more acceptable in societies, with more young people moving to consume such drinks.
As a leading beverage manufacturer and distributor in the country, the Lao Brewery Company Ltd often tries to offer the best choice of products to Lao people.
Apart from supporting sports events, education, health and festivals, the Lao Brewery Company is the top tax-payer in Laos, making annual tax payments of more than 2 trillion kip each year.
By Advertorail Desk
(Latest Update January 26, 2023)