Laos-Cambodia trade surges to US$210 million in 2022
The value of two-way trade between Laos and Cambodia reached US$210 million in 2022, up from US$160 million in 2021, according to a report in the Phnom Penh Post.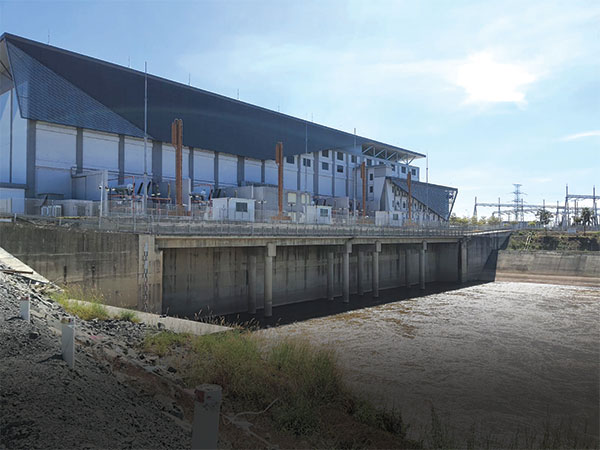 Don Sahong in Champassak province is a hydropower plant that exports electricity to Cambodia. –Photo Ekaphone Phouthonesy
"Market platform Trading Economics indicates that imports from Laos of items in the "mineral fuels, oils, distillation products" category – or Chapter 27 of the Harmonised System – made up US$142.49 million, or nearly 89 percent, of the more than US$160.9 million worth of goods collectively that Cambodia exported to and imported from Laos in 2021," the Phnom Penh Post stated.
When Cambodian Prime Minister Hun Sen paid an official visit to Laos on February 13-14 in response to an invitation from Lao Prime Minister Dr Sonexay Siphandone, the two premiers agreed to further boost economic cooperation.
The two premiers also discussed the possibility of high-speed rail link between Laos and Cambodia and improved tourism connectivity by road and air to facilitate tourist travel between Laos and Cambodia.
During the visit, the two leaders discussed the countries' collaboration in various areas, including border demarcation, connectivity, tourism, and hydropower and coal-fired power development.
Cambodia is an important purchaser of Lao electricity - a key factor in strengthening the friendly relations and cooperation between the two countries.
As of June last year, Laos had exported 445MW of electricity to Cambodia, with a planned increase to 6,000MW by 2030, according to the Ministry of Energy and Mines.
In January this year, Champassak province in southern Laos completed the installation of a 500kV transmission line linking a power substation in Khong district to the Cambodian border.
The 500kV transmission line and substation are part of the first power generation project in Laos to be implemented through a concession or BOT model, with the co-developer as builder and operator. This is an important achievement in the context of the country's strategy to export electricity to neighbouring countries such as Cambodia.
In the meantime, investment cooperation between Laos and Cambodia has also grown. As of February last year, some 30 Cambodian companies were investing in Laos with registered investment capital of US$107 million.
In addition, leading Lao businesses have invested in Cambodia, which should further strengthen economic cooperation between the two nations.
During the Cambodian PM's visit, the two premiers agreed to promote connectivity between Champassak and Attapeu provinces in Laos and Preah Vihear and Rattanakiri provinces in Cambodia. This is aimed at building joint activities and stronger people-to-people relationships.
Also during the visit, the Lao People's Revolutionary Party (LPRP) held a meeting with the Cambodian People's Party (CPP) to discuss and further deepen friendly relations and long-term strategic cooperation.
The event was attended by the Secretary General of the LPRP and President of Laos Thongloun Sisoulith, and President of the CPP and Prime Minister of Cambodia Samdech Techo Hun Sen.
By Times Reporters
(Latest Update February 17, 2023)