Laos, Cambodia make plans for integrated tourism

Lao and Cambodian tourism authorities have pledged to strengthen cooperation and to encourage more people to travel between the two countries through privately organised package tours that arrange visits to both nations.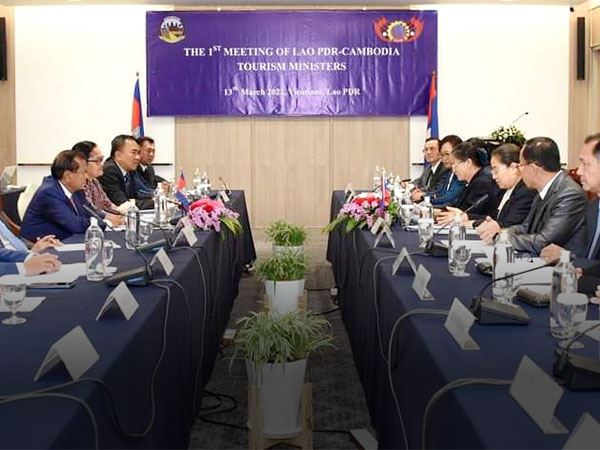 Lao and Cambodian leaders meet in Vientiane to discuss how to strengthen tourism cooperation between the two countries.
A Memorandum of Understanding (MOU) on the initiative was signed in Vientiane on Monday by the Director General of the Tourism Marketing Department of Laos' Ministry of Information, Culture and Tourism, Mr Khom Douangchantha, and Director-General of Tourism Development and International Cooperation, Ministry of Tourism of the Kingdom of Cambodia, Mr Thong Rathasak.
The agreement was signed during the 2nd meeting of the Joint Tourism Working Group between the two ministries. Also present was Laos' Minister of Information, Culture and Tourism, Mrs Suanesavanh Vignaket and Cambodia's Minister of Tourism, Dr Thong Khon, who is on an official visit to Vientiane from March 12-15.
The MOU also aims to improve the standards of tourism personnel to ensure greater efficiency, as well as attract more investment to drive the resumption of tourism between Laos and Cambodia.
During the event, Mrs Suanesavanh confirmed Laos' willingness to foster tourism between Laos and Cambodia and the continued strengthening of cooperation in the development of natural resources in the tourism sector.
The two sides agreed to make it easier for people to drive from Cambodia to Laos and vice versa through simplified immigration procedures at border crossings, especially when travelling from Laos to coastal areas of Cambodia and from Cambodia to tourist attractions in Laos.
The two ministries agreed to organise familiarisation trips for their government officials, tour operators, travel agents, and the media, both this year and next.
Tourism authorities will set up joint promotional booths at international tourism fairs and produce a promotional video titled "Two Countries, One Destination".
The two ministries also agreed to push for more flights between popular tourist destinations in Laos and Cambodia.
Private operators in the two countries will be encouraged to organise package tours bringing tourists from China and other countries to both Laos and Cambodia, using the newly built Phnom Penh-Preah Sihanouk Province Expressway and Lao high-speed rail link.
The two sides also agreed to explore the possibility of linking tourist destinations by arranging cruises on the Mekong River.
Other proposed activities include a Cambodia-Laos Cycling Rally, running events, and other joint activities to promote tourism and celebrate the 66th anniversary of Cambodia-Laos diplomatic relations.
Tourism officials also agreed to consider organising a roadshow in each country to give tourism businesses the opportunity to make contacts and foster investment in tourism.
Another plan involves the joint promotion of community-based and culinary tourism by organising a food festival or gastronomic forum in each country.
By Phetphopaxay Sengpaseuth
(Latest Update March 15, 2023)