Nemo Partners to open representative office in Laos

The global leading business support company from South Korea, Nemo Partners Group, will open a new representative office in Laos. The office will be located at the 3 rd floor of Khop Chai Deu Restaurant in the centre of Vientiane.
A contract on the establishment of the new representative office between Nemo Partners Group and the International Culture Industry Association was signed in Vientiane on Tuesday at the Landmark Hotel.
Mr Jaewook Yoo (third left) and Mr Sam Maeng display a signed contract during the ceremony on Tuesday in Vientiane.
Attending the signing ceremony were the President of the Lao Youth Economic Advisory Board of the Lao People's Revolutionary Youth Centre Committee, Dr. Vilaysanh Phommyxay; Founder and CEO of Nemo Partners Group, Mr Jaewook Yoo; Nemo Future Institute, Mr Jun Hyun Hong; Associate of Nemo Partners Holdings and President of the International Culture Industry Association, Mr Sam Maeng; and representatives of the government and business sectors in Laos and Korea.
Speaking at the event, Mr Sam Maeng said the International Culture Industry Association was established in 2018 to promote trade and cooperation between Laos and South Korea. The association held a trade fair in Laos in the same year but due to the Covid-19 pandemic subsequent activities were suspended.
"Now is a great time to continue the cooperation between our two countries. And the first project we will be involved in is a bio energy production project for which Nemo Partners will be the consulting company to attract investors in this project," he said.
"In the future, Nemo Partners will focus on more sectors in Laos such as tourism, education, export Lao labuor to work legally in South Korea, renewable energy, and industry," he added.
Nemo Partners provides corporate advisory services on six management issues including strategy, operational excellence, education, and enterprise automation, as well as working with the government and public.
The company's strategy is to focus on aspects of their clients' business, such as the vision, organisation restructuring and cost reduction, business diagnosis, human resources organisation, and operational innovation, as well as assist human resources development in client organisations such as the workforce, job analysis, and employee satisfaction.
For overseas clients, the Nemo Partners Group has been providing business support for overseas expansion and localisation, new business development and operation, investment attraction, and mergers and acquisitions.
Since its establishment in 1990, the company has provided more than 2,000 successful consulting services to a diverse spectrum such as large and mid-sized enterprises, public institutions, government and foreign investment institutions, and others.
With its headquarters in South Korea, the company has 12 overseas offices in Russia, China, Hong Kong, Myanmar, Singapore, Mongolia, Laos, the United States, Japan, Vietnam, the Philippines, and Canada.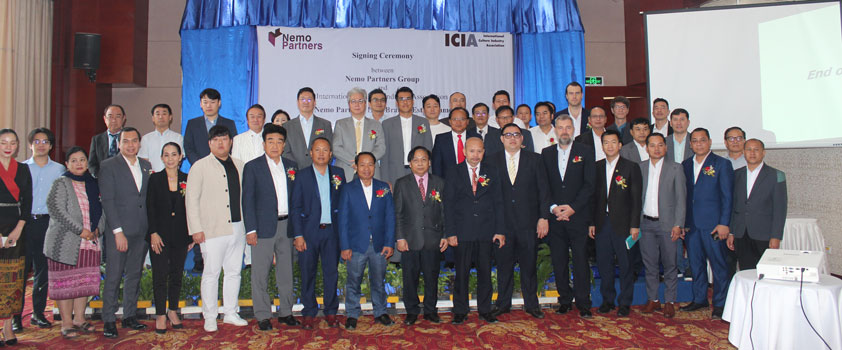 All participants gather for a group photo after the ceremony on Tuesday.
By Advertorial Desk
(Latest Update March 24, 2023)