President gives encouragement to Khamkeuth district farmers
President Thongloun Sisoulith on Wednesday instructed Khamkeuth district authorities in Borikhamxay province to encourage residents of Nahat village to grow more crops.
At the same time, the President praised the results achieved by provincial leaders and handed over funds to support the expansion of agriculture in the province.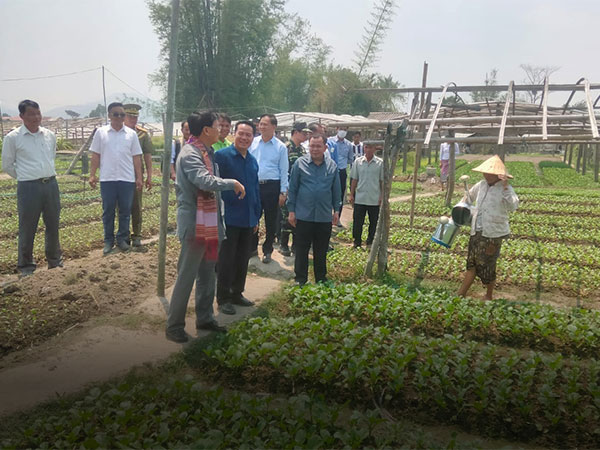 President Thongloun Sisoulith and Borikhamxay provincial authorities visit a farm in Khamkeuth district on Wednesday.
He urged local residents to live in solidarity and to support each other, as well as working harder to become more productive, so that more families could boost their incomes and rise above poverty.
During his visit to Nahat village, President Thongloun and his officials were received by the Governor of Borikhamxay province, Dr Kongkeo Xaysongkham, along with district and village authorities.
Representing Khamkeuth district's agriculture and forestry office, Mr Somphonpheng Latsasombath reported on the current situation regarding the commercial cultivation of vegetables, saying farmers enjoyed growing crops and raising livestock because there was plenty of land, water, and a suitable climate.
The agriculture and forestry office and other local government bodies are seeking funds for the development of agriculture, to improve people's standard of living, and change to clean methods of agriculture.
In 2004, 15 families were able to earn more money by growing crops in the dry season from November to March, setting a good example to other families. In 2019, the district's agriculture and forestry office allocated 100 million kip to build crop shelters in the rainy season, and provide farmers with more equipment.
In 2020 and 2021, the office received a donation of 348 million kip from the government of Luxembourg. This was spent on the construction of offices for growers, training courses, and the purchase of essential equipment.
Office staff have also met up with their counterparts in Xieng Khuang province and Vientiane to hear about and learn from their experiences. Also in 2020 and 2021, the office encouraged organic farming, with the result that 15 families grew crops in greenhouses and 25 families adopted clean agriculture practices, earning more than 2.4 billion kip from crop sales. Nahat village's organic vegetable group has received a certificate from the Ministry of Agriculture and Forestry in recognition of its efforts to improve farming methods and increase yields.
The group farms vegetables organically in both the wet and dry seasons, with the crops sold to markets in Khamkeuth district and other provinces.
By Times Reporters
(Latest Update March 24, 2023)