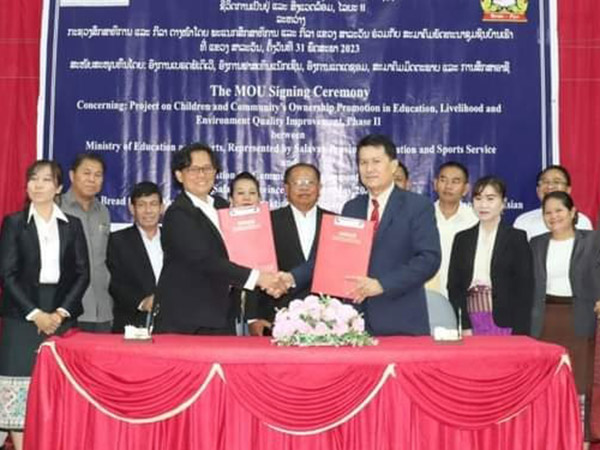 Head of the Saravan Education and Sports Department Mr Silisack Thanomhak and Director​ of the Community Development Association of Laos Ms Bualaphet Chounthavong last week sign an MOU on the second phase of an education project.--Photo Saravan newspaper
Second phase of education, nutrition project kicks off in Saravan

The quality of education and standard of living of children in Saravan​ province are set to improve thanks to funding support amounting to more than 14 billion kip (US$830,000) from aid agencies based in four countries.
Bread for the World is providing US$393,700, Switzerland's Fastenaktion is donating US$343,700, Germany's Terre des Hommes is contributing US$50,000, and Japan's Asian Education​ and Friendship​ Association is providing US$42,600.
The funds will be used to roll out Phase II of a project titled "Children and Community's Ownership Promotion in Education, Livelihood and Environment Quality Improvement" in Laongam, Ta-oy and Samuay districts, which will take place from 2023-2025.
A Memorandum​ of​ Understanding to put the project into effect was signed in Saravan province last week by the Head of the Saravan Education and Sports Department, Mr Silisack Thanomhak, and Director​ of the Community Development Association of Laos, Ms Bualaphet Chounthavong.
The project was set up to support the education component of the National Socio-Economic Development Plan for 2021-2025.
Its objectives are to improve the quality of children's education and the living standards of people in rural areas through a combination of in-school and out-of-school education, providing access to quality education, good nutrition, and an improved quality of life.​​
Phase I of the project was carried out in cooperation with provincial authorities and fulfilled the set goals.
The second phase will focus on improving the quality of teaching and learning, such as building libraries and encouraging children to learn about and share in environmental conservation activities.
Phase II also aims to boost the incomes of poor families, encourage better management of forest products, and improve nutrition in schools by teaching children about the value of different foods.
The project is in line with Saravan province's education development plan and state policy to improve the quality of education, ensure better nutrition among children, and foster environmental studies in schools.

By Times Reporters
(Latest Update June 5, 2023)