Vietnamese investment in Laos surges 52.5 percent

The value of investment by Vietnamese companies in Laos reached US$180 million in 2022, an increase of 52.5 percent, according to a VietnamPlus report.
In the meantime, Lao companies are operating 10 investment projects worth over US$71 million in Vietnam.
The figures were revealed during the two countries' investment cooperation conference held in Vientiane last week, co-chaired by Prime Minister Dr Sonexay Siphandone and his visiting Vietnamese counterpart Pham Minh Chinh.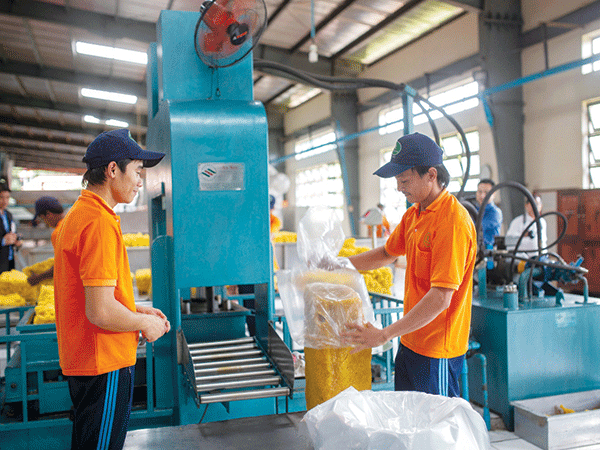 Workers are on duty at a rubber factory in Champassak province invested by Vietnamese company. –Photo Phoonsab Thevongsa
The meeting aimed to provide opportunities for Lao and Vietnamese business operators to meet and discuss cooperation, enabling the governments of the two countries to consider solutions to the problems encountered by Lao and Vietnamese businesses.
Dr Sonexay said the Lao government welcomed suggestions from Vietnamese investors and was ready to seek solutions to help investors overcome their challenges.
The Lao government pledged to improve the investment climate and provide optimal conditions for Vietnamese companies to invest in areas of potential in Laos.
Vietnam is the third largest foreign investor in Laos after China and Thailand, with Vietnamese companies involved in 238 operational projects with total pledged capital of US$5.34 billion.
In 2021, Vietnamese firms invested US$118.3 million in Laos, up 33.3 percent year-on-year while the value of two-way trade surged to US$1.49 billion in 2022, an increase of 23 percent year-on-year.
Vice Chairman of the Laos-Vietnam Cooperation Committee, Mr Viengsavanh Vilayphone, said Vietnamese investment in Laos had increased after Laos reopened to international visitors and businesses in May last year.
In 2022, the Lao government issued investment licences for three new projects and approved revised investment capital for three other projects operated by Vietnamese companies, with registered capital of US$65.92 million, according to Mr Viengsavanh.
"Vietnamese investment contributes significantly to socio-economic development and job creation for thousands of people in Laos, and also generates income for the government," he said.
In recent years, Laos and Vietnam have jointly resolved issues faced by major development projects, particularly those relating to hydropower and mining.
Vietnamese Premier Pham Minh Chinh was quoted by VietnamPlus as saying that despite the huge potential offered, Laos-Vietnam economic cooperation has yet to match the level of the special relations between the two countries.
PM Chinh stressed that the two governments should refine regulations and implement policies consistently in order to facilitate bilateral investment while also maintaining political stability, creating an open investment climate and providing investment incentives in priority areas.
The Vietnamese PM said the two countries also need to provide more mutual assistance in building independent and self-reliant economies that actively, extensively and effectively integrate with the rest of the world.
Vietnamese companies have been encouraged to invest more in clean agriculture, technology, and the manufacture of consumer goods in Laos.
By Somsack Pongkhao
(Latest Update January 16, 2023)