Be Bold, Act Now: World's Climate Advocates and Policymakers Tackle Climate Crisis at ADB SEADS 2023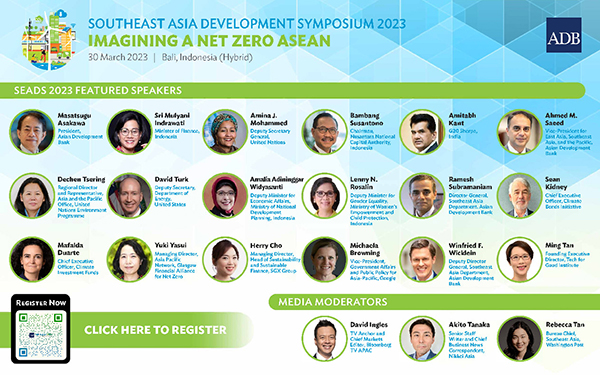 Southeast Asia is one of the world's most vulnerable regions to the impacts of climate change. Climate impacts in the region continue to grow more severe, disproportionately affecting vulnerable communities, and placing millions at risk of being thrown back into extreme poverty. Southeast Asian nations face the formidable challenge of contending with the effects of climate change while pursuing lower-carbon pathways and maintaining robust economic growth.

The Asian Development Bank's (ADB) fourth Southeast Asia Development Symposium (SEADS), which will be held in-person in Bali, Indonesia on 30 March, with a simultaneous online broadcast, will explore measures that governments, communities, and private sector entities can take to progress toward carbon neutrality by 2050.

Speakers at SEADS 2023, "Imagining a Net Zero ASEAN," will examine how the region can harness new green, innovative, and cost-effective approaches; adopt new technological solutions; accelerate the availability of finance; and deploy other effective measures to support decarbonization in a wide range of sectors while revitalizing economies.

Confirmed speakers include:
Masatsugu Asakawa, President, ADB
Sri Mulyani Indrawati, Minister of Finance, Indonesia
Amina J. Mohammed, Deputy Secretary General, United Nations
Bambang Susantono, Chairman, Nusantara National Capital Authority, Indonesia
Ahmed M. Saeed, Vice-President for East Asia, Southeast Asia, and the Pacific, ADB
Amitabh Kant, G20 Sherpa, India
Dechen Tsering, Regional Director and Representative, Asia and the Pacific Office, United Nations Environment Programme
David Turk, Deputy Secretary, Department of Energy, United States
Amalia Adininggar Widyasanti, Deputy Minister for Economic Affairs, Ministry of National Development Planning, Indonesia
Lenny N. Rosalin, Deputy Minister for Gender Equality, Ministry of Women's Empowerment and Child Protection, Indonesia
Ramesh Subramaniam, Director General, Southeast Asia Department, ADB
Sean Kidney, Chief Executive Officer, Climate Bonds Initiative
Mafalda Duarte, Chief Executive Officer, Climate Investment Funds
Yuki Yasui, Managing Director, Asia Pacific Network, Glasgow Financial Alliance for Net Zero
Herry Cho, Managing Director, Head of Sustainability and Sustainable Finance, Singapore Exchange
Douglas Sabo, Chief Sustainability Officer, Visa
Michaela Browning, Vice-President, Government and Public Policy for Asia–Pacific, Google
Winfried F. Wicklein, Deputy Director General, Southeast Asia Department, ADB
Session moderators include:
David Ingles, TV Anchor and Chief Markets Editor, Bloomberg TV APAC
Akito Tanaka, Senior Staff Writer and Chief Business News Correspondent, Nikkei Asia
SEADS will feature a morning plenary with keynote addresses from ADB President Masatsugu Asakawa, Indonesia Finance Minister Sri Mulyani Indrawati, and other renowned government and industry leaders; a high-level panel discussion, "Financing Net Zero"; an exhibit, the Innovations and Solutions Marketplace; and the launch of the ADB report, Global Value Chains in Southeast Asia: Building Resilience and Sustainability.

The afternoon will kick off with a featured keynote by Nusantara National Capital Authority Chairman Bambang Susantono and other change-makers, followed by nine breakout sessions on deploying technology in climate mitigation and adaptation; building low-carbon and climate-resilient cities; shifting to clean energy; ensuring a climate-resilient and inclusive ASEAN; minimizing climate effects on health; ensuring the blue economy leads to net zero; mobilizing transition finance; reimagining ecotourism; and deploying the cloud to meet climate goals.


SEADS 2023 is open to representatives from governments, the private sector, academia, think tanks, non-government organizations, and the media.

Due to a limited number of slots for in-person participation, registration will be reviewed and screened based on the responses to the registration criteria. Registration for in-person attendees ends on 10 March. Please note that slots are filling up fast.

Virtual participation is open to everyone, and there is no deadline to register.

Visit the SEADS 2023 website to see the agenda and lineup of speakers.

Advertorial Desk
(Latest Update March 19, 2023)