Laos, S. Korea agree to start biofuel production project

Laos and the Republic of Korea have agreed to start a 12-year biofuel production project worth US$20 million, with the aim of producing 500,000 litres of biogasoline a day, equalling 12.5 million litres a month.
A report on the project was presented at the signing of a Joint Venture Agreement for the Premium Alternative Fuel Helimax.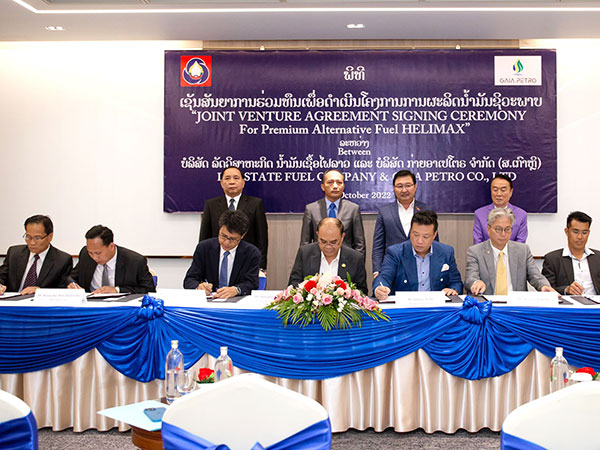 Representatives of the two companies and the Ministry of Finance sign agreements in Vientiane on Monday.
The event was chaired by the General Managing Director of the Lao State Fuel Company, Mr Sysangkhom Khotnhotha, who is also Asean Council on Petroleum, and the CEO of GAIA Petro Co., Ltd., Mr Kikung Jung.
The agreement was also signed by the Director of the Department of State-Owned Enterprises Reform and Insurance, Ministry of Finance, Dr Sonephet Inthavong.
The signing was witnessed by Deputy Minister of Industry and Commerce Mr Bountheung Duangsavanh, Deputy Minister of Finance Mr Bounpone Vannachit and Deputy Minister of Energy and Mines Dr Sinava Souphanouvong, and officials from other relevant sectors.
Speaking at the event, Mr Sysangkhom said the project would be located at a warehouse in Dongphosy village, Hadxaifong district, Vientiane.
"GAIA Petro Co., Ltd. holds a 55 percent stake in the project, 22.5 percent is owned by the Lao State Fuel Company, and 22.5 percent by local investors," he added.
Mr Kikung Jung said on GAIA Petro Co., Ltd.'s website that international oil prices have continued to rise.
In fact, most countries have relied on oil-producing countries or international financial capital for their own energy industry.
The energy industry plays an important role in all social and national aspects and affects a large part of national policy.
Today, many countries are suffering from energy shortages and some countries have financial problems with regard to importing energy.
GAIA Petro Co., Ltd. has always tried to solve these problems and provide opportunities for non-oil-producing countries to develop into energy independent countries.
"We want to collaborate with those countries to become an energy independent country and to contribute to the country's national economy and join forces with its people and welfare," Mr Kikung Jung said.
"The energy of the future must be more eco-friendly, efficient, and economical. I hope this will be of great help to the nation and contribute greatly to the lives of its people," he added.
By Times Reporters
(Latest Update November 2, 2022)