That Luang festivities return to pre-pandemic levels

The That Luang festival grounds were packed with thousands of people from across the country, who joyfully made the most of the activities on offer after the festival was scaled down in the previous two years due to the Covid outbreak.
Since early on Tuesday, thousands of Buddhists flocked to the That Luang esplanade and its surrounding areas to give alms to monks, which is considered a highlight of the annual festival to pay homage to the That Luang stupa.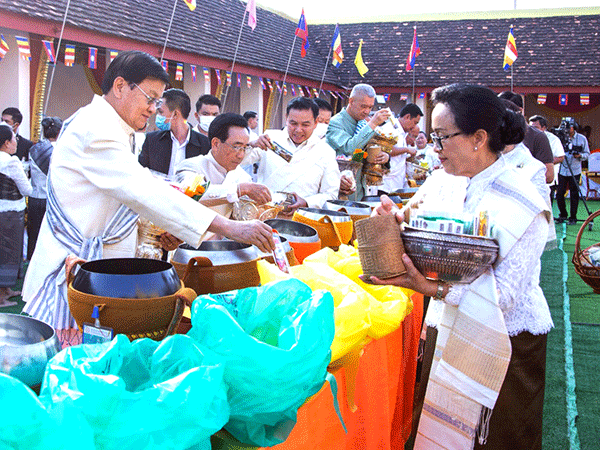 President Thongloun Sisoulith, PM Phankham Viphavanh, and other senior officials join the crowd of people to give alms to monks as part of That Luang festival.–Photo Vientiane Mai
Traffic jams were reported in different parts of the city as devotees eagerly made their way to make merit by offering food to monks and showing their veneration for the Grand Stupa, which is believed to house a relic of the Buddha.
The religious ceremonies were also attended by President Thongloun Sisoulith, Prime Minister Phankham Viphavanh, and other senior officials.
The almsgiving ceremony, followed by a game of Lao-style hockey in the afternoon and a colourful candlelight procession in the evening, were the highlights of the last day of the festival.
One Vientiane resident, Ms Sakhone, said that with improvement of transport following the opening of the Laos-China railway and new roads, many more people from the provinces came to pay homage at That Luang, which is the most revered stupa in Laos.
In 2020 and 2021, the gathering of large crowds was banned to prevent the spread of Covid, and the festival celebrations were limited to religious and other traditional events.
This meant the festival was held on a much smaller scale with fewer activities, while keeping them meaningful and traditional.
This year, the festival took place from November 4-8, with events including cultural performances and a wax castle procession.
The festival also featured a trade fair comprising 1,351 booths, with Lao authorities inviting businesses from China, Thailand and Vietnam to take part.
The trade fair also exhibited Lao-made products and tourism products, as well as promotions of the railway, expressway and logistics parks, alongside goods made under the "One District, One Product" scheme.
That Luang, which is a huge golden stupa and one of the most famous landmarks in Laos, is among the most significant tourist attractions and features some of the oldest architecture in Vientiane and the nation.
The stupa was originally built in the 3rd Century when Vientiane was initially established. The original structure was renovated on the orders of the great King Xaysetthathirath in the 16th century when he moved the Lao capital from Luang Prabang to Vientiane.
By Times Reporters
(Latest Update November 9, 2022)