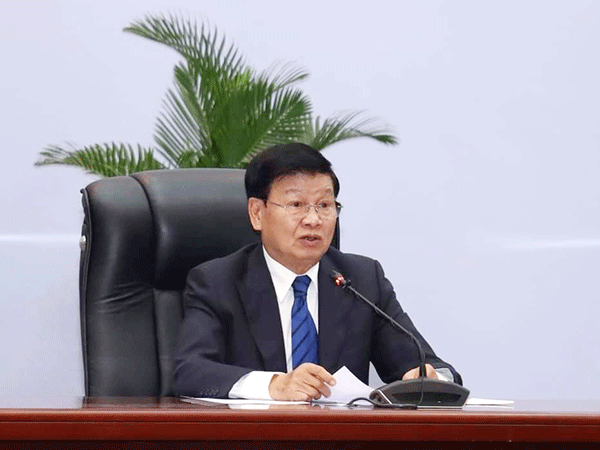 Party Secretary General Thongloun Sisoulith addresses the meeting.
Party chief spells out six core tasks for victory on political-ideological battlefield

Party chief Thongloun Sisoulith has told Party cadres to undertake six core missions, ranging from tackling corruption, reducing bureaucracy, and narrowing the development gap, in order to win on the political-ideological battlefield.
Addressing the countrywide Political-Ideological Affairs Meeting in Vientiane on Friday, the Secretary General of the Lao People's Revolutionary Party's Central Committee highlighted the critical work to be done to reflect victory on the battlefield.
The three other main tasks to be undertaken involve addressing unbalanced development and ineffectual state organisations, and changing officials' conventionally unprogressive mindset of reluctance to push for change, as well as lack of motivation and a careless attitude.
"To win on the political-ideological battlefield, our Party must tackle the issues that officials and the public have raised and wish our Party to address," Mr Thongloun told the two-day meeting, referring to the six core tasks.
Politburo members, members of the Party Central Committee, retired Party and state leaders, and senior Party cadres attended the meeting – the fifth of its kind.
Party leaders regard political-ideological affairs as a battlefield and believe that victory in this domain determines overall victory in the nation's development process.
To achieve tangible victories on the battlefield, the Party chief called for Party cadres and state officials to put words into action and for state and Party leaders to be strong role models in this regard.
He also called for more effective communication to disseminate the Party's guidelines and policies, as well as state laws and regulations. In this regard, appropriate investment should be made to develop a skilled workforce, materials, platforms and mechanisms to enable the Party's missions to be fulfilled.
Mr Thongloun, who is also state President, underlined the importance of successfully carrying out political-ideological affairs in order to instil correct thought among Party cadres and state officials.
The Party has always placed great importance on political-ideological affairs and regards this sphere as the fundamental, core, priority and everyday work of the Party, which must be carried out across all Party and state bodies, the leader added.
Over past years, political-ideological affairs have been implemented systematically and have supported the nation's development and safeguarding tasks on the road to achieving socialism.
The meeting, held at the Party Central Committee's Office, reviewed the implementation of this work since the last meeting took place 19 years ago in 2003.
The Party chief praised Party committees at all levels for their leadership and supervision in implementing the political-ideological affairs that have made achievements possible.
By Times Reporters
(Latest Update November 21, 2022)