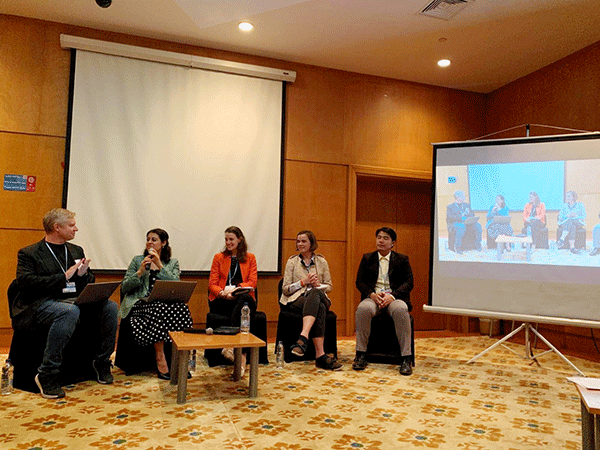 (From left) Prof Mark Howells, Dr Karla Cervantes Barron, Mrs Helena McLeod, Ms Charlotte Weston, and Mr Virana Sonnasinh.
Report advises how Laos can increase resource efficiency in industry

The Climate Compatible Growth Programme (CCG) and the Global Green Growth Institute (GGGI) have launched a report on the ways that Laos can increase industrial resource efficiency during a side-event of the United Nations Conference of the Parties held in Sharm el Sheikh, Egypt (COP27).
The report was titled: "Resource efficiency in the Lao PDR industry: guidelines for a sustainable industrial development" and contained lessons for other low- and middle-income countries.
Representatives from CCG, GGGI, the UK COP presidency and the Lao government were present at the launch and delivered speeches, highlighting the role of international cooperation in this area and the further support required.
The report fits well with the Green Industry Policy, which has been under development this year.
The aim of the report is to explore the current situation and the potential for introducing material and energy efficiency measures. The sectors included were construction, agro-processing, garments, chemicals, food and beverage, energy and mining.
The report highlighted the difficulties faced by companies in Laos when acquiring materials, the perceptions of local officials, the equipment that can be changed to increase efficiency, and some policy recommendations.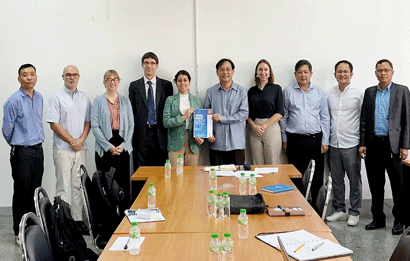 The report is delivered to the Department of Industry and Handicraft, Ministry of Industry and Commerce.
The report has also been shared with the Ministry of Industry and Commerce's Department of Industry and Handicraft so the findings can be disseminated.
Professor Mark Howells (CCG director) chaired the COP27 event, which included speeches by Mr Virana Sonnasinh (Director of the Department of Planning and Finance, Ministry of Natural Resources and the Environment), Ms Charlotte Weston (Head of Energy Transitions for the UK COP presidency) and Mrs Helena McLeod (Deputy Director General of GGGI), which were followed by a summary of the key findings of the report by Dr Karla Cervantes Barron and a discussion.
The report- which is freely available online- identifies resource efficiency potential in industries and actions to increase productivity, create jobs, and reduce emissions.
Alongside these actions, there will be a requirement for investments, financial measures, infrastructure, and information campaigns, as well as carefully coordinating stakeholder participation.
As highlighted by Mrs McLeod, "Laos needs real action in terms of technical support but also financial mobilisation". The report highlights investments needed to increase efficiency, which the authors hope will help mobilise finance.
By Advertorial Desk
(Latest Update November 28, 2022)