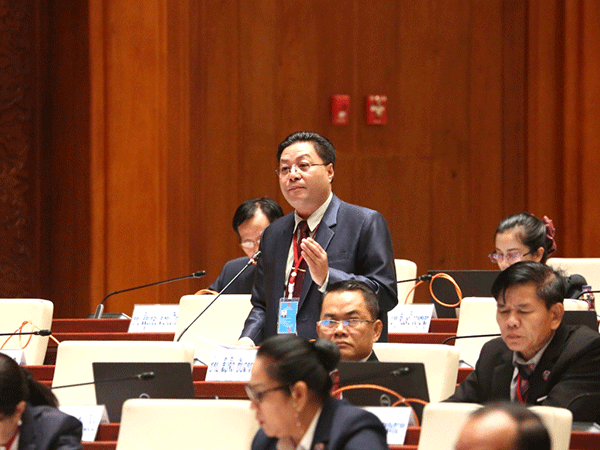 NA members make comments on reports delivered by the government.
'Laos will not slide into default', PM assures National Assembly

Prime Minister Phankham Viphavanh has told the ongoing sitting of the National Assembly that the government will strive to repay public debt to prevent Laos from going into default.
Laos is facing financial and economic difficulties after years of accumulating debt that has now reached a critical level.
The World Bank has projected that Laos' public and publicly guaranteed debt will surpass 100 percent of gross domestic product (GDP) by the end of this year.
Addressing the National Assembly on Tuesday, the prime minister said the government is doing all it can to repay the debts owed to foreign countries and avoid default.
Minister of Finance Bounchom Ubonpaseuth assured members of parliament that Laos is able to repay all of its debts.
Laos has significant new sources of revenue from piloted mineral exports and the mining of digital currencies, he said.
Revenue earned from these new sources has now exceeded US$120 million and 420 billion kip.
"These are the outstanding measures in revenue collection for 2022," the minister said.
According to the plan for 2022, Laos is set to repay domestic debt amounting to 10,083 billion kip, of which 5,381 billion kip has been paid, accounting for 53 percent of the plan. Meanwhile, foreign debt stands at over US$1,241 million kip, of which more than US$520 million has been paid.
"I wish to assure you that we have sufficient capital to repay our debts by the end of the year," Mr Bounchom said. The budget deficit is expected to shrink from the target figure of 3,098 billion kip (1.61 percent of GDP) to 979 billion kip (0.51 percent of GDP).
Meanwhile, revenue is expected to exceed the target figure for 2022 by 6.27 percent, amounting to more than 1,981 billion kip.
The minister also said Lao authorities had negotiated the postponement of debt payments with some creditors, enabling Laos to relax its borrowing plans.
In 2022, the government hoped to source loans worth 16,900 billion kip. So far, it has secured 8,891 billion kip, including 6,239 billion kip from foreign creditors.
Minister of Planning and Investment Khamjane Vongphosy told the National Assembly that Laos is likely to achieve two indicators of the balance of international payments.
He explained that Laos had enjoyed a trade surplus of US$911 million in the first nine months of this year, with the figure expected to rise to US$1,199 million for the whole of 2022.
Although the indicators are set to be met, the minister said only a relatively small proportion of foreign currency earned from exports and capital sourced from foreign-funded development projects in Laos had entered the banking system.
The government assured Assembly members that it will pursue macro targets. In this regard, it will strive to achieve GDP growth of 4.4 percent this year, an increase from the 3.5 percent recorded last year.
GDP growth was recorded at 4.2 percent in the first nine months of 2022.
Next year, the government will pursue a GDP growth target of at least 4.5 percent, amounting to 234,160 billion kip. If achieved, income per capita will stand at US$1,625 and gross national income per capita will reach US$1,534.
By Times Reporters
(Latest Update December 7, 2022)