Laos calls for sustainable water resource management at Asia-Pacific Water Summit

Prime Minister Phankham Viphavanh has called for joint efforts to ensure effective and sustainable management of water resources, with the topic taking centre stage at the fourth Asia-Pacific Water Summit.
The premier led a Lao delegation to attend the summit with the theme of "Water for Sustainable Development - Best Practices and the Next Generation" held on April 23-24 in Kumamoto City, Japan.
Addressing the meeting, the Lao PM said the increasing world population, growing demand for water and water resources, and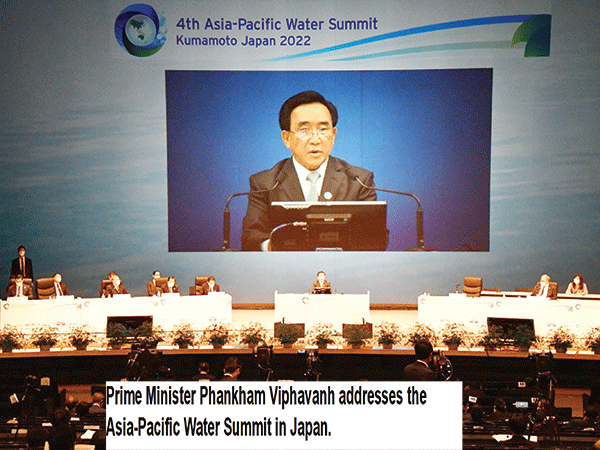 climate change have implications for the sustainability of water and water resources, according to a press statement from the Ministry of Foreign Affairs.
"There is a need for us to urgently take action to manage water and water resources effectively and sustainably," PM Phankham told the meeting.
High-level delegates including heads of state and representatives of international organisations in the Asia-Pacific region attended the summit.
Recognising the importance of water and water resources, the United Nations has defined water management and use as the sixth sustainable development goal (SDG6) - one of the 17 sustainable development goals.
"We all have an obligation to realise (this goal)," the Lao PM said.
He added that the Lao PDR has attached great importance to water and water resources in order to ensure the most effective use and sustainable management of the fertile water and water resources that harbour potential for the country's development.
In this regard, the Lao government has drawn up a water and water resources management strategy.
In addition, Laos places great importance on water diplomacy by enhancing regional and international cooperation on water and water resources management.
International measures on water management have been incorporated into national measures to ensure proper management in Laos. These include the integration of SDG6 into the national socio-economic development plan.
The summit adopted the Kumamoto Declaration, which made references to water-related challenges amid the Covid pandemic and recovery.
The pandemic is having severe socio-economic impacts on countries around the world and is hindering progress towards fulfilment of the SDGs. The pandemic has disrupted disaster risk reduction and water service delivery.
On the other hand, lack of access to safe and affordable water and sanitation, along with the recurrence of floods and droughts, has hindered prompt global responses to the pandemic, the declaration stated.
The leaders are determined to strengthen the development of quality infrastructure for the water sector, integrating both hard and soft components, including knowledge, information and data management.
To accelerate efforts, the leaders agreed to encourage the relevant institutions to collaborate and enhance capabilities and performance in the water sector.
Lessons learnt will also be shared. The leaders acknowledged the importance of mobilising investment and called upon the science and technology community to provide innovations to solve water-related problems.
By Times Reporters
(Latest Update April 25, 2022)