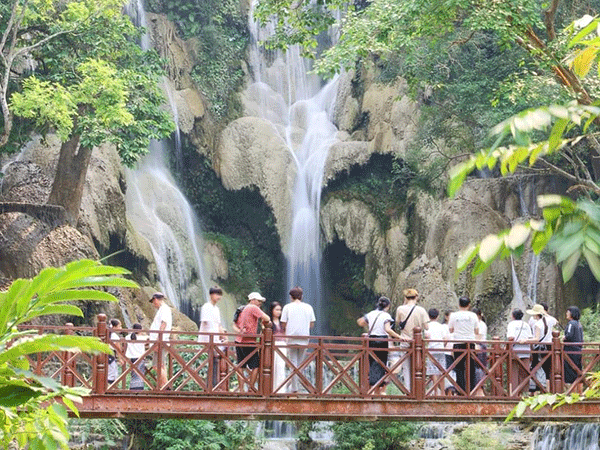 Kuang​ Xi​ waterfall​ in Luang Prabang province is one of the country's most popular tourist attractions. --Photo Teng
Laos welcomes over 831,000 visitors in 3 months

More​ than​ 831,000 foreign tourists flocked to visit Laos in the first three months of this year, in stark comparison to the figure of 211,898 overseas visitors who came to the country in the first six months of 2022 – a clear indication that tourism is on the rebound.
Tourists from Thailand, Vietnam, China and the Republic of Korea topped the list of visitors.
Statistics compiled by the Ministry of Information, Culture and Tourism indicate that 344,405 visitors were Thai nationals, almost 180,000 came from Vietnam,​ 143,312 from China, 45,756 from South Korea, 16,998 from the USA, 11,418 from France, and 9,880 from the United Kingdom.
An official in​ charge​ of tourism, who asked​ not​ to be named, said there had been a noticeable uptick in visitors since the government reopened the country to foreign travel in May last year and the Laos-China Railway came into service at the end of 2021.
The railway is a very popular means of travel and passes through the provinces of Luang Prabang and Oudomxay, which have many places of interest to tourists, including adventure activities.
Tourism authorities and operators have improved services at hotels, guesthouses, and restaurants, and added more facilities at tourist sites, to provide more convenience for visitors.
Laos has also been cited in many foreign publications and websites, with river trips through the Nam Et-Phou Louey National Park in Huaphan province listed among the world's top 10 best night safaris in an article posted on the Condé Nast Traveler website in February.
The Nam Et-Phou Louey National Park was the only location in Southeast Asia to appear on the list.
In March, Luang Prabang was recommended by the American magazine Time as one of the 50 greatest places to visit in 2023, further raising the town's profile on the international tourism circuit.
The magazine called Luang Prabang "a hidden paradise", saying the turquoise waterfalls, Buddhist temples, and sunset boat trips on the Mekong River are just a few of the province's highlights.
Luang Prabang city's old quarter was listed as a World Heritage Site in 1995 by the United Nations Educational, Scientific and Cultural Organisation (UNESCO), which determined that its architecture was culturally significant and worthy of protection by the United Nations.
Other popular attractions in and around the provincial capital include the Phu Si stupa, Xieng Thong temple, Sae waterfall, Kuangxi waterfall, and the night market.
By Times Reporters
(Latest Update May 7, 2023)