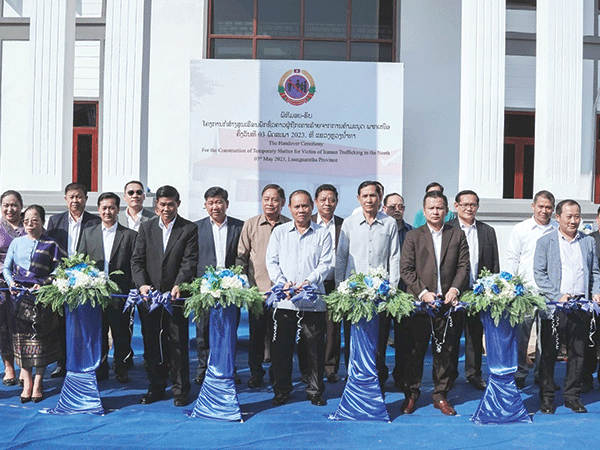 General Vilay Lakhamfong (centre) and senior officials last week cut a ribbon to open a shelter in Luang Namtha province for victims of human trafficking.
Govt opens shelter to house female trafficking victims

The government last week opened a shelter in Luang Namtha province to accommodate trafficking victims, mostly women and children, returning to Laos following their escape or release from enforced labour in neighbouring countries.
Construction of the shelter was funded by the government at a cost 4 billion kip and was officially opened recently in a ceremony led by Deputy Prime Minister and Minister of Public Security, General Vilay Lakhamfong, and attended by representatives of Luang Namtha province and other entities.
The shelter will be a temporary refuge for victims of people smugglers, to help them rehabilitate before rejoining their families.
Human trafficking is increasingly on the rise among impoverished and vulnerable people in Laos and other countries. This terrible practice affects victims' physical and mental wellbeing, as well as that of their families, and is a blight on society.
The Committee on Victims of Human Trafficking is working to tackle the problem and prevent the scourge at the grassroots level. One of its forms of assistance is the provision of shelters for Lao women and children returning to the country, acting as a half-way house to help them overcome their terrible experience.
Until now, there was only one such government-run shelter, in Vientiane, where staff provided counselling and protection.
Construction of a new shelter to serve the north of Laos began in May 2021 and was completed in February this year. Government officials carried out regular inspections to make sure construction was going to plan.
By Times Reporters
(Latest Update May 9, 2023)