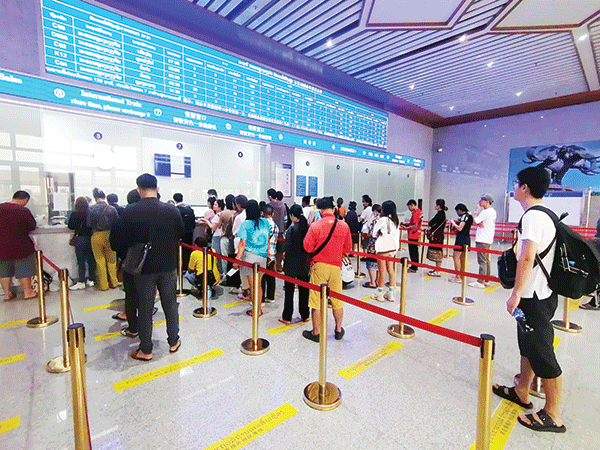 More tourists travel to Laos through Laos-China railway. --Photo Souknilundon
More people using Laos-China cross-border train service

More than 4,300 people travelled on trains making cross-border journeys on the Laos-China railway between Vientiane and Kunming during the period April 13-23, a senior tourism official has said.
Of the total figure, 2,086 Chinese nationals travelled to Laos on the Laos-China railway, Director General of the Tourism Management Department of the Ministry of Information, Culture and Tourism, Ms Darany Phommavongsa, told the Vientiane Times on Monday.
With services starting on April 13, cross-border train travel is on track to significantly bolster people-to-people exchanges, and enhance regional trade and political relations between Laos and China.
Trains on the 1,035-kilometre cross-border line travel at a top speed of 160 kilometres per hour between Vientiane and Kunming, the capital of Southwest China's Yunnan province, before connecting to China's national rail network.
The total travel time between Vientiane and Kunming, including the time taken to pass through customs and immigration at the Lao and Chinese borders, is 10 hours and 30 minutes.
Trains depart from Vientiane and Kunming in the early morning and arrive in the late evening, stopping at Vangvieng, Luang Prabang, Boten, Mohan, Xishuangbanna and Pu'er.
Passengers travelling from Laos to China must obtain a Chinese visa prior to departure. Those travelling on an official passport are not required to obtain a visa but must get approval for their visit from the Ministry of Foreign Affairs and the ministry that employs them.
Tourism officials say the relevant sectors in Laos and China should now discuss ways to reduce the time taken for passengers to pass through cross-border inspections, in order to further boost tourism between Laos and China.
Another concern is that if too many foreign tourists flock to the popular world heritage town of Luang Prabang, amenities could become overloaded and the city might not be able to handle the visitor surge in the near future.
Tourism officials also say it's essential to expand and improve infrastructure and other facilities to attract tourists to other parts of Laos. The Laos-China Railway, which came into service on December 3, 2021, has turned Laos from a landlocked into a land-linked country within Southeast Asia. The railway not only serves to boost trade and tourism between Laos and China but is also driving economic activities between other Asean countries and China.
As of April 18, cross-border trains had handled 14.43 million passenger trips and 18.8 million metric tons of cargo, the China Daily reported recently.
Since northern Laos has become more accessible because of the railway, more and more foreign holidaymakers are coming to Laos to experience the country's natural wonders and places of historical and cultural interest.
More than 831,000 foreign tourists visited Laos in the first quarter of this year, with those from Thailand, Vietnam, China and the Republic of Korea topping the list.
By Somsack Pongkhao
(Latest Update May 9, 2023)