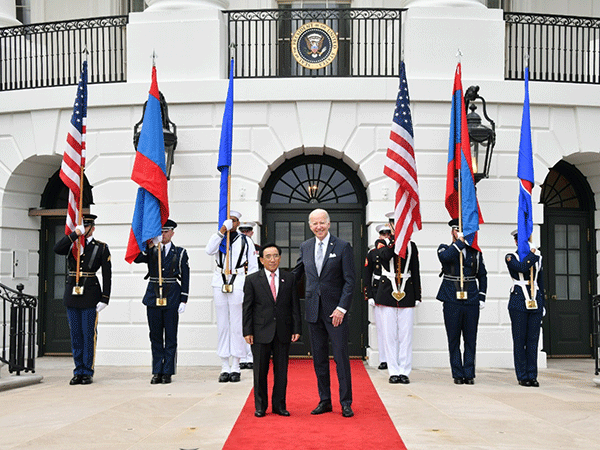 US pledges US$150 million for Asean development

US President Joe Biden has pledged to spend US$150 million on infrastructure, security, pandemic preparedness and other efforts in Southeast Asian countries, according to the Bangkok Post.
President Biden made the commitment to Asean leaders at the start of a two-day summit with the 10-nation bloc in Washington on Thursday, with a dinner for the leaders at the White House ahead of talks on Friday.
Prime Minister Phankham Viphavanh led a high-level Lao delegation to attend the US-Asean Special Summit in Washington, DC on May 12 and 13.
This is the second Special Summit since 2016 and the first in-person engagement for the leaders since 2017. The summit marks 45 years of US-Asean relations.
According to the Bangkok Post, the new financial commitment includes a US$40 million investment in infrastructure intended to help decarbonise the region's power supply and US$60 million in maritime security, as well as some US$15 million in health funding to aid in early detection of Covid-19 and other respiratory pandemics.
Additional funding will help Asean countries to build digital economies and formulate laws around artificial intelligence.
During the summit, Asean leaders met with American business leaders to discuss economic cooperation and the role of American businesses and investment opportunities in Asean countries.
The US is the second largest trading partner among Asean's dialogue partners with a total two-way trade of US$308.3 billion in 2020, according to the Lao Ministry of Foreign Affairs.
The US was also Asean's largest source of Foreign Direct Investment (FDI) in 2020 with a total inflow of US$34.7 billion.
Asean leaders say the participation and contribution of American businesses is critical to the region's economic recovery, strengthening supply chains through connectivity cooperation, SME development, digitalisation, innovation, and new technologies and smart cities.
Laos congratulated the US on its efforts to promote regional economic cooperation through the Asean-USAID Inclusive Growth initiative in Asean through the Innovation, Trade and E-Commerce (IGNITE) project.
By Somsack Pongkhao
(Latest Update May 13, 2022)