Public advised to avoid unnecessary travel, to save fuel for agriculture

The Ministry of Industry and Commerce and the Lao Fuel and Gas Association are urging members of the public to be frugal in their use of fuel and not to travel unnecessarily, so that enough reserves of petrol are available for use for farming and other essential activities.
Careful use of fuel is the only way to resolve the current shortage, they say.
Some farmers have complained that they are unable to cultivate their crops because of the petrol shortage and have called on the relevant parties to take speedy action to tackle the crisis. Head of the Lao Petroleum Enterprise branch in Khammuan province, Mr Vongsone Phimmavongsa, updated reporters in the province about the local situation with regard to fuel supplies.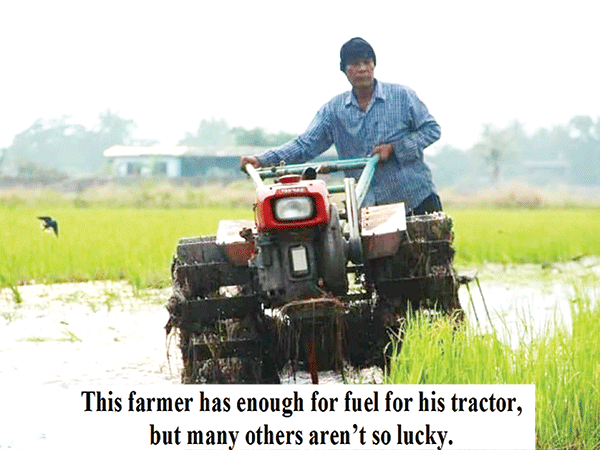 Khammuan is one of many provinces suffering from a lack of fuel, he said, and pumps at some petrol stations have run dry, meaning that many motorists are unable to use their vehicles.
In some areas, petrol stations are open only once or twice a week and are not allowing people to take fuel away in containers. Petrol sales in the provincial capital must not exceed 400,000 kip per vehicle, while tractor owners cannot buy more than 20 litres at one time.
The Ministry of Industry and Commerce is calling for the same restrictions to be imposed at branches of the Lao Petroleum Enterprise in Saravan, Xekong and Vientiane provinces, with petrol sales to be rationed to 200,000 kip per vehicle.
All provinces have been suffering fuel shortages since late March, with the situation worsening in Pakxe city of Champassak province and Savannakhet province before finally hitting Vientiane.
In an attempt to rectify the situation, the government is looking at ways to ease the unfavourable currency exchange rate, which is the root cause of the problem, according to the Ministry of Industry and Commerce.
Laos is totally dependent on fuel obtained from outside sources, meaning that large amounts of foreign currency are required to purchase fuel from other countries.
As a temporary measure, the government has agreed to lower the taxes and other fees paid by fuel businesses, so as to lower the retail price of fuel.
The Prime Minister's Office issued a notice on May 9 ordering the sectors concerned to implement a resolution adopted by the Standing Committee of the National Assembly.
The notice stated that the excise tax charged on diesel would be lowered from the current amount of 21 percent to 11 percent, while the excise tax charged on petrol would be cut from 31 percent to 16 percent.
By Phetphoxay Sengpaseuth
(Latest Update May 23, 2022)