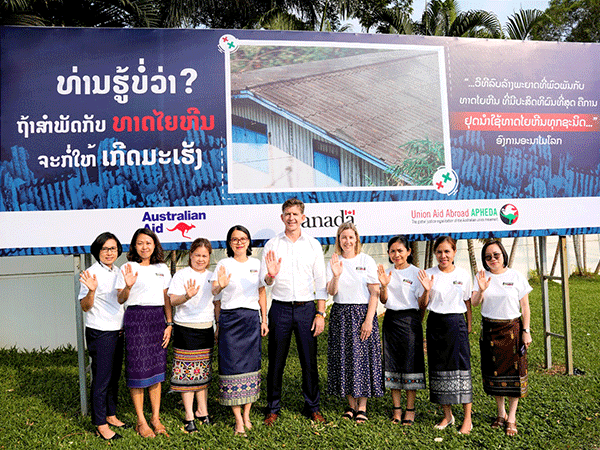 The Australian Deputy Ambassador, Mr Dan Heldon, and embassy staff pose for a group photo in front of the billboard.
Poor management of raw asbestos poses health risk

Arrangements for managing raw asbestos at many places in Laos are often poor, posing a health risk for workers and nearby local communities.
To raise awareness of this issue, Union Aid Abroad-APHEDA, with the support of Australia in Laos, has put up a billboard in front of the Australian Embassy in Vientiane to highlight the dangers posed by asbestos.
In Laos, asbestos is often used in construction, particularly for housing for the poor. There are multiple factories that manufacture asbestos roof sheeting in Vientiane and the provinces of Luang Prabang, Vientiane, and Champassak.
However, the standards for managing raw asbestos are often poor, including manual handling of the fibre and no safe storage or waste management. This means workers and communities within a 2-km radius of the factories are at risk of exposure.
Though APHEDA has been campaigning to increase awareness among workers, communities, students, and government officials about the risks of asbestos, there is still a lack of awareness about the need for safe storage, or safe removal of old decaying asbestos, which is commonly broken up and reused for road maintenance, water storage tanks and animal pens.
APHEDA is committed to continue to support local partners to eliminate asbestos-related diseases in Laos as well as in the region and the world.
APHEDA receives support for our asbestos project from the Australian Government through the Australian NGO Cooperation Programme.
By Advertorial Desk
(Latest Update May 24, 2023)