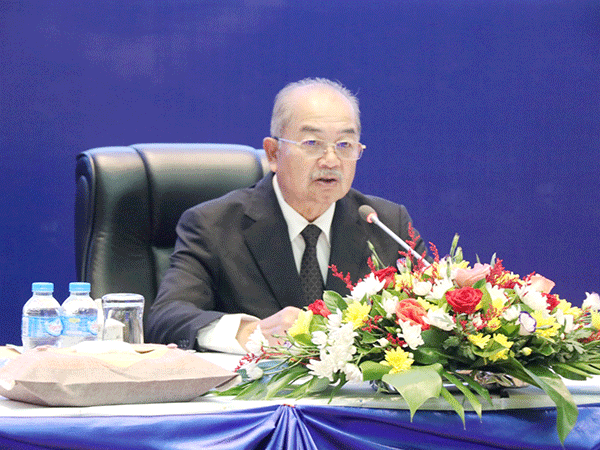 Deputy Prime Minister Prof. Dr Kikeo Khaykhamphithoune chairs a meeting on Friday.
Govt to spend over US$22 million on population, housing census

The government will spend US$22.2 million and employ 18,000 officials to conduct the fifth national population and housing census, with the results to provide key statistics on demographic and socio-economic characteristics.
The figures were outlined during a meeting held last week to discuss the census, chaired by Deputy Prime Minister Prof. Dr Kikeo Khaykhamphithoune and attended by the Minister of Planning and Investment, Mr Khamjane Vongphosy, Head of the Lao Statistics Bureau, Mrs Phonesaly Souksavath, and other officials.
Mr Khamjane said the budget was a challenge as the ministry needed to source 60 percent of the cost (US$13.4 million) from fundraising and the government's budget.
The money will be spent on carrying out surveys, compiling data and checking and editing the material gathered, as well as interpreting the results of the surveys.
The census requires multiple technical and financial partnerships and will be assisted by the UNFPA, USIAD, DFAT Australia, and the World Bank.
Statistics are essential for the formulation, monitoring, evaluation and assessment of national socio-economic development plans, national population and development policies, and exploring solutions to emerging population issues, Mr Khamjane said.
Mr Khamjane said the census will assess population size and housing conditions. Questions will centre on households' level of education, occupation, disabilities, relocation, birth and death rates, and sanitary conditions.
"The statistics gathered will track population changes over the 10 years from 2015-2025 and provide new information on the implementation of the 9th NSEDP 2021-2025, support formulation of the 10th NSEDP for 2026-2030, and assess progress towards achieving the ICPD PoA and Sustainable Development Goals," Mr Khamjane said.
According to Prof. Dr Kikeo Khaykhamphithoune, the population of Laos is currently estimated at around 7.5 million.
The government has conducted four population and housing censuses since 1985, with the last being carried out in 2015.
Up to 107 of the 231 indicators of the Sustainable Development Goals require population data for monitoring, and censuses are a key source.
The census provides data on disadvantaged regions and vulnerable groups, such as the poor, the old, people living with disabilities, migrants and adolescents and girls.
It provides the basis for deriving samples of households for national surveys and the production of granular baseline population data, disaggregated by age and sex for development planning, that are also critical for contingency planning and response to disasters and humanitarian settings.

By Times Reporter
(Latest Update July 4, 2023)