Asean, China agree on aspects of future cooperation
Asean and China will enhance joint efforts to contain the spread of Covid-19 as an urgent mission, and aim to overcome post-pandemic challenges.
They will also continue implementation of the Master Plan on Asean Connectivity towards 2025 (MPAC 2025), and the Fourth Action Plan on Asean Integration (4th APAI 2021-2025), and other cooperation frameworks in the long term.
The direction of cooperation was determined at the Special Asean-China Ministers Meeting held on Monday in Chongqing, China, to mark the 30th anniversary of dialogue relations between the Asean bloc and China.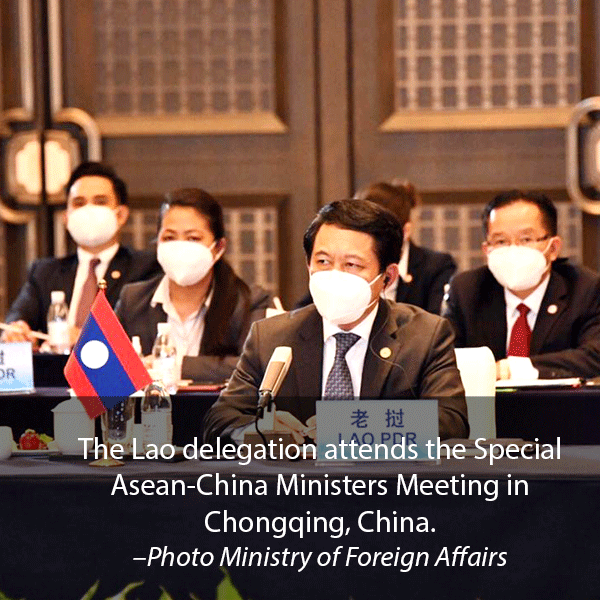 Minister of Foreign Affairs Saleumxay Kommasith led the Lao delegation attending the meeting, which was co-chaired by China's State Councilor and Minister of Foreign Affairs Wang Yi, and Minister of Foreign Affairs of the Philippines, Teodoro Locsin.
Participants assessed the achievements of cooperation between Asean and China over the past 30 years under the political, economic and socio-cultural pillars, and discussed future cooperation.
As urgent cooperation, Asean and China will strengthen joint efforts to battle the spread of Covid-19.
This will include the sharing of information and best practice including on the research and development of Covid-19 vaccines and their supply through bilateral and multilateral cooperation such as COVAX.
Leaders will also focus on comprehensive post-pandemic economy recovery through an Asean recovery plan, and encourage micro, small and medium enterprises to do more trade online.
In the long term, Asean and China will continue the implementation of the MPAC 2025, 4th APAI 2021-2025, Asean-China Free Trade Area, and Regional Comprehensive Economic Partnership, and promotion of sub-regional cooperation such as Mekong-Lancang Cooperation.
Mr Saleumxay thanked China for its valuable assistance to Laos, especially technical assistance and funding provided to contain the spread of the virus, including the provision of vaccines through both bilateral and multilateral cooperation frameworks.
The minister expressed his support for the direction of cooperation between Asean and China, and the narrowing of the development gap, human resource development, and sharing of best practice on poverty reduction.
Meeting participants also discussed issues of regional and global concern, such as the promotion of constructive cooperation between great powers.
The ministers discussed preparations for the Asean-China Post Ministerial Conference to be held in August, and the Asean-China Summit to be held in October.
On the sidelines of the meeting, Mr Saleumxay met with his Vietnamese counterpart Bui Thanh Son to discuss Lao-Vietnamese cooperation in politics, economics, and socio-cultural matters.
Mr Saleumxay thanked the Vietnamese government for sending medical staff and equipment to Laos to support the response to the Covid-19 outbreak.
By Times Reporters
(Latest Update June 9, 2021)